Description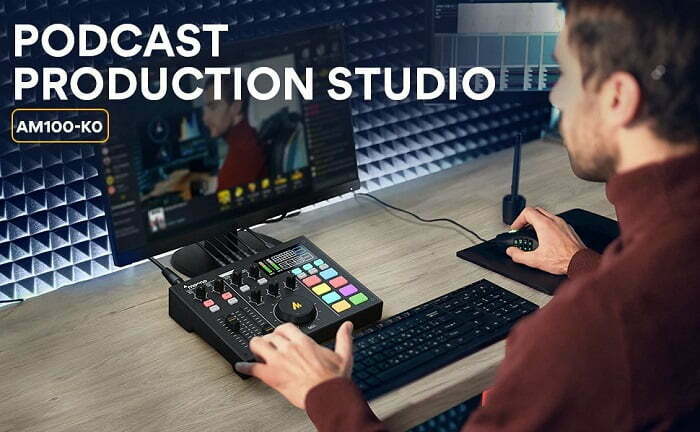 Features Highlights
Multi-channel Mixing/Streaming and Monitoring
It offers four channels of audio mixing and easy connections to microphones, smartphones, PC, Mac, and other sources; Built-in rechargeable battery for even more portability.
Fine-tune your audio
6 reverb modes, auto-tune, and 4 pitch changers. Each microphone input is independently controlled and can be muted with one tap. Pro features like sidechain, mix-minus, noise-canceling, and loopback switch are also included.
Programmable jingles
All seven jingle pads are programmable with our PC/Mac APP. We have preloaded four audio effects. You can upload any audio effects you like to the MAONOCASTER. In addition, there is a cough button so you can let it all out while keeping your content clean!
Perfect recording or guitar take
Features separate premium-quality MIC amplifiers with XLR interfaces and adjustable 48V phantom power.6.35mm instrument input to record guitar or bass, capture your instruments in all their glory without any unwanted clipping or distortion.
CONVENIENT ADJUST
It supports up to 4 presenters at the same time through easy connections to 2 mic for vocals, 2 audio sources such as smartphones, MP3 players and musical instruments, or any audio-playing devices with a 3.5mm AUX jack, a total of 4 high-quality channels.
PRO SCENE MODE
MAONOCASTER can turn your sound into various typical reverberant versions: Studio, KTV, Church, Hall, Valley and Room while you closely monitor the signal levels of MIC and MIX.
POWERFUL ENDURANCE
It features a 5000mah built-in battery which is capable to support at least 8 hours non-stop podcasting. With MAONOCASTER, you can continue live streaming during a blackout, when you are outdoor or even on the move.
WIDE COMPATIBILITY
You can live stream to YouTube, Twitch, Spotify, Hitbox, BeamPro or record to your favorite recording software.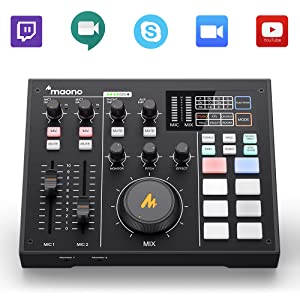 UPGRADED PADS
4 sound FX preset pads, and 3 programmable pads to upload your own sound FX or jingles using MAONOCASTER PC app.
INDEPENDENT DENOISE
reduce background noises, you will get a clean, distortion-free audio with rich, warm tone as in professional studios.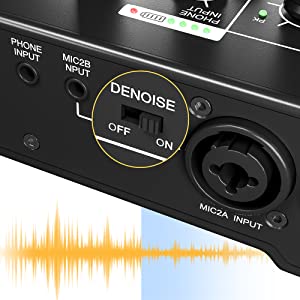 Ports