Description
Features Highlights
FULLY INTERGRATED AUDIO PRODUCTION STUDIO FOR STREAMERS
Combining revolutionary features with superior sound quality, endless customizability, and unmatched ease of use, the MAONOCaster AME2 is all you will ever need to record incredible audio for your content. Ideal for podcast recording, streaming, voice-over, and content creation. Compatible with PC, smartphone, tablet, camera, Windows, Mac OS, etc.
UP TO 11 CUSTOMIZED SOUND PADS TO ENHANCE YOUR PODCAST ATMOSPHERE
Built-in quality pre-amps and support phantom power for best performance of XLR microphone. AME2A features 3-level mic gain adjustment, supporting ultra-low noise gain up to 60dB, and high-end dynamic microphones, such as SM7B/SM58, and SM58. 32Bit high-performance chipset and DENOISE function will provide a clearer sound.
 ENJOY A PERSONALIZED PODCASTING ATMOSPHERE
Equipment with 6 reverb modes, You can adjust the time and depth of reverb freely, 12-step auto-tune, 3 modifiable tones (Treble, mid-range, bass), and pitch changer knobs. Each microphone input is independently controlled. Pro features like sidechain, music only, and loopback switch are also included.
DESIGNED FOR LIVE-STREAMING
MAONOCaster AME2 Tikmic can use USB-C to connect your computer or tablet, LIVE-OUTPUT1/2 to connect your smartphone for podcasting recording and streaming, via MONITOR SPK, connect a studio monitor for sound output, use an AUX-IN jack to connect your input accompaniment from a smartphone or other devices, use MIC1/2, and connect your favorite XLR condenser/dynamic microphone.
COMPATIBLE WITH MICROPHONES
MAONOCASTER AME2 is compatible with most analog microphones, including XLR condenser/dynamic microphones, 6.35MM dynamic microphones, and 3.5MM microphones. Note: USB microphones are not supported. You can use the product with MAONO PM320, PM500, and HD300, It also works well with microphones of other brands, including Shure SM7B, Shure SM58, Rode podmic, Samson Q2U, etc.
Up to 8H working time after fully charged can satisfy your use in more scenarios
2000mAh battery allows you to use freely when traveling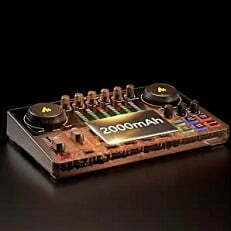 Clearer sound transmission
Separate USB C jack to connect your computer, keep away from static noise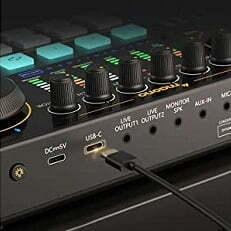 Adjust the volume of every microphone freely
Each Mic, Soundpads, Monitor, Input, and Output Volume can be adjusted individually to enjoy your podcast.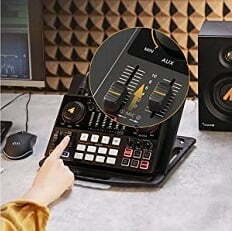 Intelligent noise reduction
reduce background noises, you will get a clean, distortion-free audio with a natural, warm sound.

Dry/Wet mode
Switch to dry mode to bypass all audio processings and record pure microphone signal.
Use with your favorite microphone
Drive the high-end dynamic microphones, XLR condenser microphones, and 3.5MM condenser microphones for ultra-clear sound.
Ports