Description
Ultimate XLR Mic For Professional Recording
PM320 delivers the ultimate streaming studio setup to your desktop. you have everything you need for professional podcasting, game streaming, YouTube videos, and voice over work. With stunning sound quality, professional features, and sophisticated on-camera looks, PM320 transforms your desktop into a streaming studio.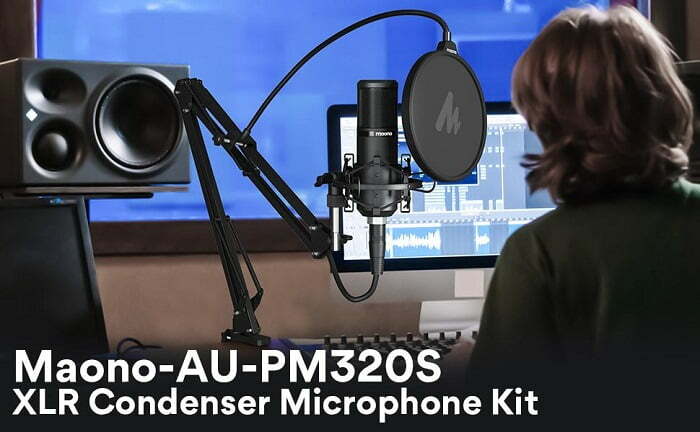 Complete Vocal Recording Kit
Built-in large Dia.16mm condenser capsule, Custom-engineered low-mass diaphragm provides extended frequency response and superior transient response. High-SPL handling and wide dynamic range make wide versatility. This high-quality XLR microphone is ideal for recording sounds and suitable for podcasting, recording, streaming, gaming, and online chatting.

Supremely Quiet for Superior Sound
The XLR microphone uses a 98 in male to female XLR cable connection, and the Pro-grade microphone cord is designed for microphones. Cardioid pointing can reduce the pickup of surrounding noise and bring you an immersive recording experience. The shock absorber can reduce the noise caused by vibration. Pop filter and windscreen cap can lower wind and Saliva interference and make your voice clear.

Full Metal Construction
Higher standard microphone craftsmanship, PM320S microphone uses high-quality materials to protect the microphone from being hurt easily as well as the internal structure. The adjustable scissors arm bracket is made of an aluminum alloy structure, which is durable. Foldable, easy to carry. Using professional multiple drop tests, the quality is worth guaranteeing!
Broad Compatibility
This microphone is an XLR interface, you need a phantom power supply or sound card that can provide 48V voltage (not included in the package), through the sound card or phantom power supply, you can connect to your Windows/IOS/IPad/phone, Maono —AU-PM320S can bring you an excellent sound experience.