Description

Level up your VR immersion
The KAT Walk C2 Core delivers a fully immersive and physically active virtual reality gaming experience. With an advanced locomotion simulation and an ultra-accurate 2D tracking system, gamers can enjoy the most realistic first-person walk in VR games. The C2 Core supports all physical actions and offers an infinite action space, thus increasing immersion and reducing motion sickness. With a focus on optimizing the core functions of KAT VR Treadmills at a minimum cost, it has become the ultimate VR Walking solution eagerly awaited by thousands of VR gamers globally.
The C2 Core supports all actions you may need in VR games, such as:
Walking
Running
Sprinting (with automatic sprint trigger in games like Skyrim)
Jumping
Crouching
Kneeling down
Unbounded leg & arm freedom
For added convenience, users also have the option to purchase an extra attachment that allows for sitting down during gameplay.
Features
360° Natural Walk Simulation: The C2 Core's locomotion simulation technology allows for a highly realistic walk in Virtual Reality.
Ultra-Accurate 2D Tracking System: The device adopts the best foot tracking technology – KAT Optical Foot Tracking, providing a highly accurate standard of motion tracking.
All-Action Support: The C2 Core supports all physical actions, including walking, running, sprinting, jumping, crouching, kneeling, and more.
Unlock Natural Walk In VR
Authentic
gait on a gaming-optimised VR walking platform
Effortless
movement with gait power assistance
Realistic
walking posture support
Core Functions for Realistic Gameplay
The C2 Core revolutionizes the VR gaming experience by delivering a range of core functionalities:
Realistic First-Person Walk: It allows for a 360° natural walk, run, and other physical actions in VR games. Thanks to our innovative locomotion simulation technologies, you can feel a highly realistic and natural walk in Virtual Reality, alleviating common VR gaming issues such as:
Limited immersion due to lack of full-body locomotion
Restricted action space in a single physical spot
Occurrence of motion sickness
Ultra-Accurate 2D Tracking System: The C2 Core incorporates our top-tier foot tracking technology – the KAT Optical Foot Tracking. This offers the highest level of accuracy and superior motion tracking standard compared to other consumer-available VR locomotion solutions.
All-Action Support: A re-optimized ergonomic structure provides maximum movement freedom, enabling the user to fully express their physical potential in Virtual Reality, all while ensuring safety.
Fully customize the VR locomotion experience
The C2 Core user-adaptive footwear allows you to turn your VR Treadmill into a perfect Virtual Reality controller optimised for you
Access infinite action space in VR from a single spot
KAT Walk C 2 Core creates endless virtual walking space, protecting you from physical collisions as you freely interact with the VR game environment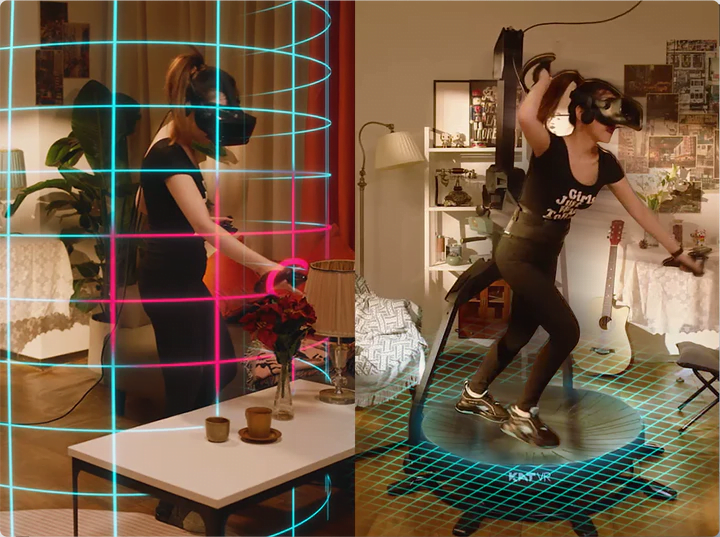 Reduce VR motion sickness
Walk in VR solves the cognitive dissonance which occurs when brain sees movement but feels the body is static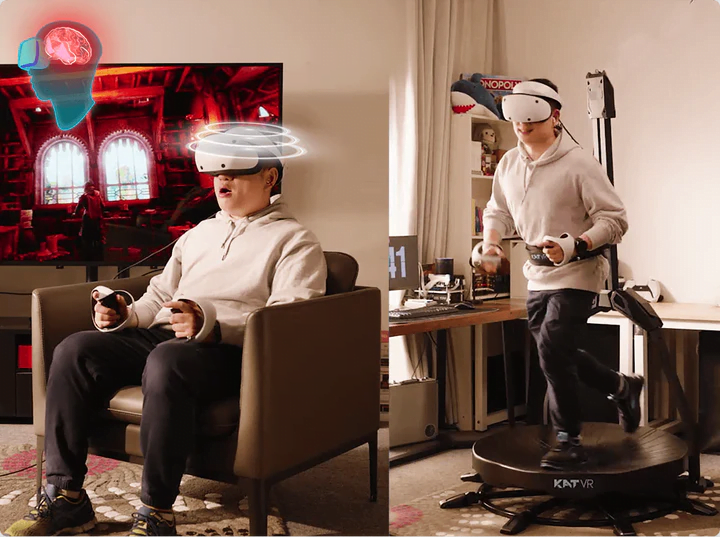 Dominate VR battlefields with 1:1 locomotion control
Instant Actions – Latency < 10MS
Precise Motion – Distance Accuracy < 0.12 MM
Decoupled Directions – Degree Accuracy < 0.3°
1:1 Speed – Analog Mapping
2D Tracking – SPI > 1200
Move physically in VR in any direction
The C2 optical sensors unlock any actions, granting 360° of multi-vector movement in VR Games:
Forward – Backward – Strafing – Curved – Slalom
Achieve full body synergy with your VR Treadmill
Open VR treadmill ergonomics and its burden-free harness are designed to closely 'connect' with the player's body and provide the feeling of ergonomic integrity with the device
Reach full range of vertical movement in VR
Height – adaptive back support feels weightless and provides support for all vertical actions from high jump to deep crouch
Active & Seated Gaming In One Spot
More efficiency and convenience than in the reality – Sit down when the game requires you or take a break at any moment, without looking for an extra chair in your gaming space!
Easy to open and sit, auto-retracts when you get up
High comfort of sitting for long gaming sessions
Natural Interaction With Seated Gaming Scenario
VR games require your avatar to sit down at multiple occasions. Whether to interact with the virtual environment in a natural way, or just to relax with your friends at a bar in VRChat!
Vehicle Driving Simulation
Vehicle Hub redefines your VR adventure letting you not only sit when you interact with vehicles but can also simulates vehicle driving in any game with 4 different speed levels
Burn more calories gaming
Seated Gaming: Average 80 Kcal / h
Roomscale Gaming: Average 175 Kcal / h
Active Gaming: Average 390 Kcal / h