Description
5D dynamic cinema
5D dynamic cinema is a four-dimensional space composed of three-dimensional movies and the surrounding environment simulation. It is a new type of film and television product composed of environmental effects and simulation on the basis of 3D movies. It enhances the effect of telepresence by providing the audience with physical stimulation in conjunction with the movie content.
5D motion special effect: Environmental effects of 5D dynamic cinema
Enhanced effect of sound and vibration to increase the experience
360 odor experience
The dynamic effect of sitting chair: push back, spray water, blow air, sweep legs
360 immersive movie hall, vision, hearing, touch, and smell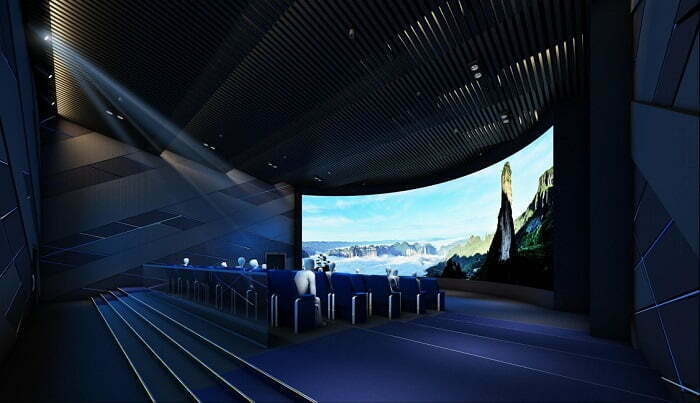 T-max Cinema
T-max Cinema using the current international and domestic advanced 3D technology, selection of HD projection system with special seats, control system, all kinds of environmental effects, such as collection into a high technical content, vivid three-dimensional effect, hearing, vision, smell, touch and dynamic advanced cinema systems, creates an immersive engaged audience. The cinema has the functions of XD cinema and roller coaster cinema at the same time, giving play to the functions of different theatres in different times to improve the operating efficiency.
Cinema features
Virtual imaging system for t-max VR simulation
Tri-max 360″ ultra-wide three-screen obtuse 3D fusion technology
Super Boost 6 speed octave sync Overspeed technology
Surface coordinate restoration precise positioning shooting system
3 degrees of freedom servo dynamic platform
The intensive multi-loop wireless network communication system