Description
https://youtu.be/21witUHM57c
450K – Hybrid Mechanical Gaming Keyboard
A triple colour backlight and full functionality customization in a splash-resistant hybrid mechanical switch keyboard? Yes, we did it. Say hello to 450K.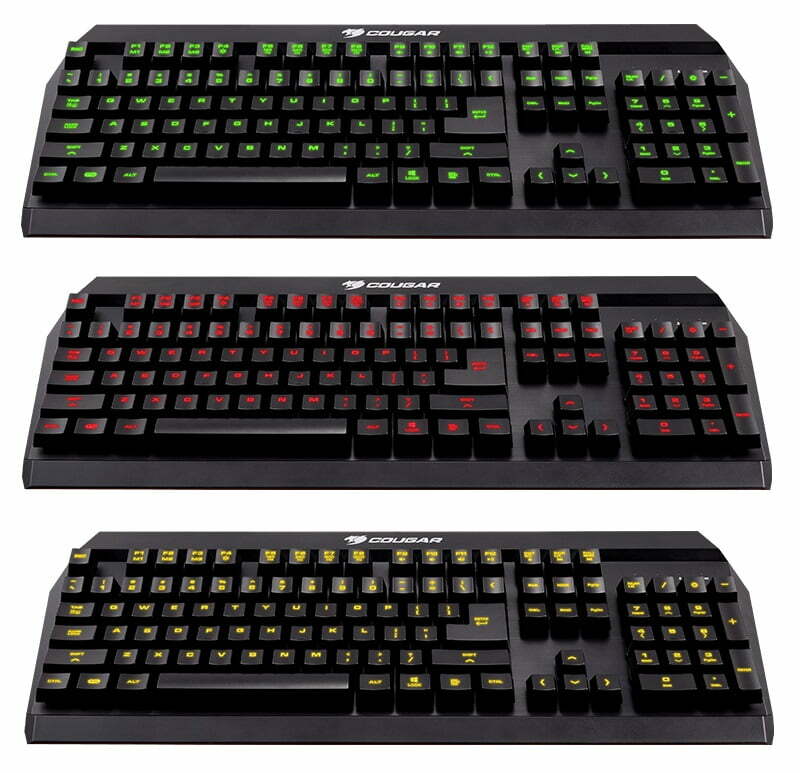 Hybrid Mechanical Gaming Keyboard
COUGAR 450K brings you all the features you would expect from a high-end gaming keyboard. With highly comfortable hybrid mechanical switches, 450K provides the accurate tactile feedback of fully mechanical keyboards and durability far above other keyboards of its class while at the same time offering a superior level of comfort and less finger strain.
450K also sports impressive customization capabilities that include macros, remapping and the adjustment of several key settings of the keyboard. All this is managed through the incredibly user-friendly interface of COUGAR UIX. You can store your settings in the keyboard's on-board memory (with capacity for up to 3 Profiles) and use the three colour full backlight to distinguish them visually. All this and much more is waiting for you in this incredible gaming keyboard!
Highly Durable Splash-Resistant Design
In the heat of battle, you cannot always afford to be gentle. Fast movements are in order, and as the game advances, keystrokes become more and more violent. 450K can sustain intense gaming sessions, but it does something more. The most durable of mechanical keyboards will often die if an accident such as water being spilt over it. Not 450K. With its Splash-Proof design, COUGAR 450K allows you to focus on winning and stop worrying about anything else.
UIX + On-Board Storage
COUGAR 450K's support for UIX allows you to adjust the functionality of the keyboards' keys, define macros and modify many vital settings of the keyboard. All of this is done with a highly intuitive interface that is shared with compatible COUGAR mice, which means that after you get used to 450K using, for example, 450M will be easy and natural.
After configuring all the settings, 450K's on-board memory will allow you to bring with you up to three configuration Profiles anywhere you go.
3-colour Full Backlight
COUGAR 450K includes a functional backlight designed to allow you to play in dark environments and still see the keys, while its three different colours will allow you to know at any moment which of the three on-board Profiles you are using at each moment.
Features
Mechanical Feel and Sound
COUGAR 450K's Hybrid Mechanical switches allow you to enjoy the tactile and audible feedback you expect from a mechanical keyboard.
Splash-Proof Design
Live free from the fear of liquid (water, drinks, etc.) spills: COUGAR 450K's splash-resistant design will suffer no damage from liquids falling on it.
Anti-Ghosting
COUGAR 450K will always allow you to press any six keys. For a set of keys (including, among others, WASD, direction keys and space, among others) a unique anti-ghosting technology is implemented that allows you to press all of them and produce accurate input.
3-colour Full Backlight
Play Anytime, Anywhere.
1000 Hz Polling Rate
COUGAR 450K's 1000 Hz Polling Rate brings you a 1ms Response Rate.
On-board Memory
450K's on-board memory will allow you to store in it up to 3 full configuration Profiles.
Anti-Slip Rubber Feet
With its high-quality rubber feet, COUGAR 450K will stay stable even during intense gaming sessions.
COUGAR UIX™ System
A single interface for all your COUGAR peripherals.
Convenient Shortcuts
450K includes handy preset FN key combos that will allow you to control media playback, record macros on the fly and use them lock the windows key and adjust the polling rate.

10 Programmable Keys
Macros, shortcuts, functions… 450K can serve you in many ways. Use the COUGAR UIX System to define the functions you need and assign them to 10 different keys.

On-the-fly Mode Switch
Convenient key combinations allow you to switch easily between the three configuration modes on the keyboard.