Description
Attack X3 – The Choice of Gamers
The COUGAR Attack X3 is a Pro gamer's dream, come true. Cherry MX Switches, fully configurable key functions (including macros), strong red backlight and a durable and visually stunning aluminium design. No unnecessary buttons or additions, only what true gamers need.
Let the Game start!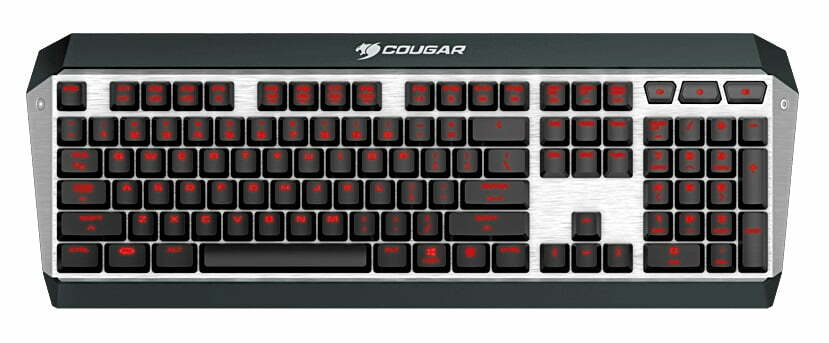 Cherry MX, the Original Mechanical Switches
With a guaranteed lifetime of at least 50 million strokes, the Cherry MX Mechanical Switches are the first and best mechanical switches available on the market. Their unmistakable tactile feedback, unrivaled accuracy and distinctive sound all contribute to putting Attack X3 above its competitors.

Perfect Accuracy, Superior Speed
The COUGAR Attack X3 is a full NKRO mechanical keyboard that guarantees that your input is entirely and accurately transmitted to the computer. Attack X3's 1000Hz polling rate and 1 ms response time bring you the switft in-game reactions you need.
Clean Gaming Design – Clean Layout + aluminium + Powerful Backlights
COUGAR Attack X3's design fulfils three key requirements from gamers. First, it is a clean design that offers the standard layout plus a few handy extra functions. No extra keys will interfere with your gaming. Second, its design includes a strong brushed aluminium frame that enhances the keyboard's durability and gives it a premium feel. This structure, of military design inspiration, is one of Attack X3's most defining visual features. Last but not least, it includes a set of powerful red backlights that will allow you to play in any environment.
Staying away from unnecessary designs, Attack X3 addresses gamers' core needs and fulfills them completely.
COUGAR UIX™ Device Management System
Set the functionality of all the keys on your keyboard, assign pictures to Profiles for graphical recognition, store macros and share them… A world of possibilities awaits with the COUGAR UIX System.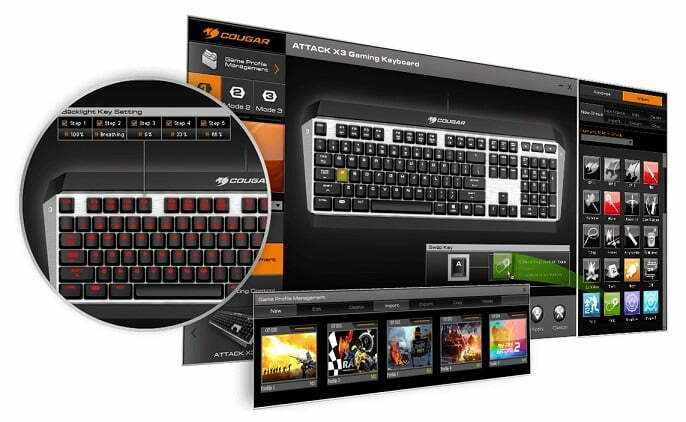 Features
Cherry Mx Mechanical Switch
Mechanical keys deliver gaming-grade responsiveness and distinctive tactile feedback. With durable Cherry MX key switches that last up to 50 million keystrokes.
N-Key Rollover in USB Mode
NRKO Technology: Simultaneous and Accurate Multi-Key Commands
1000 Hz Polling Rate
1ms response time
On-board Memory
The on-board memory allows you to store up to 3 full configuration Profiles on the keyboard itself. This allows you to preserve your configuration even if you bring your keyboard to another computer.

Aluminium Brushed Structure
The exposed switch design stands proudly above the bent brushed aluminium structure that crowns the keyboard. An elegant and durable solution.
Media Shortcut Keys
Quick control over your music and videos!
COUGAR UIX™ System
A single interface for all your COUGAR peripherals.
Anti-Slip Rubber Feet
The keyboard base remains stable even during intense gaming sessions.
Full Key Backlight
5-step brightness adjustment by the backlight key
Up to 30 Macros
Attack X3 RGB's on-board memory will allow you to record up to 30 macros and bring them anywhere you go!

On-the-fly Mode Switch
Convenient key combinations allow you to switch easily between the three configuration modes on the keyboard.