Description
Meet TH50
Intel® CoreTM i5-11320H Processor and Intel® Iris® Xe Graphics power the EliteMini TH50, an ultra-compact and high-performance mini PC designed specifically for home and office use. Not only can regular work be done smoothly, but so can some heavier games and video editing.
Powerful Processor & Graphics
EliteMini TH50 comes with an Intel® Core™ i5-11320H Processor (4 Cores/8 Threads, Tiger Lake), which is one of Intel's top CPUs with excellent computing performance and power savings, using the 10nm SuperFin manufacturing process and supports LPDDR4 and Thunderbolt 4. It is also supported by Intel® Iris® Xe Graphics, which provides a significant graphics performance boost and a frequency of up to 1.35 GHz.
DeskMini TH50
Intel® Core™ i5-11320H, 4 cores / 8 threads
Intel® Iris® Xe Graphics eligible(Graphics Frequency 1.35 GHz)
LPDDR4 16GB (On Board. Unable to upgrade memory)
M.2 2280 512GB PCIe SSD
2.5 inch SATA HDD Slot×2 (SATA 3.0 6.0Gb/s)
M.2 2230 WIFI Support (Dual-Band Wi-Fi,BlueTooth)
Upgradable Win 11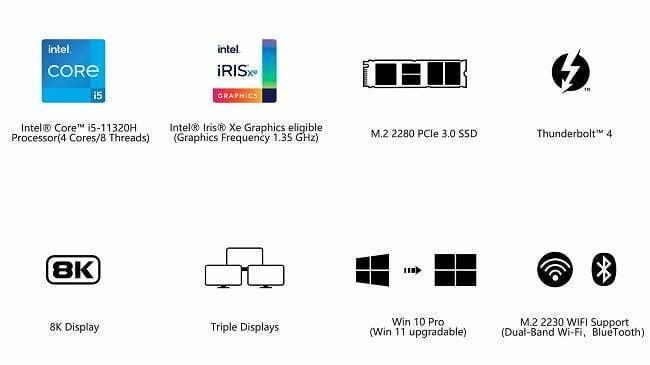 Features
High Definition 8K Triple Displays
TH50 Mini PC brings you ultra-realistic 8K UHD visuals with incredible clarity and maximum productivity in your workflow.
EliteMini TH50 has an onboard memory of LPDDR4 16GB and is optional without SSD/256GB/512GB SSD. It has two 2.5″ SATA HDD slots (SATA 3.0 6.0Gb/s) that are available for bigger capacity, lower latency, and quicker responsiveness in your workflow.
• LPDDR6 16GB(On Board. Unable to upgrade memory)
• 2.5 inch SATA HDD slot x 2 (No capacity limits, maximum thickness 7mm)
• M.2 2280 PCle 3.0 SSD (No capacity limits)
Multiple Application Options
Great choice for multiple commercial and industrial network activities.
Fast Thunderbolt 4
Thunderbolt 4 is the strongest high-speed I/O interface standard to date and offers comprehensive capabilities for use with USB-C. Compared to Thunderbolt 3, the data transmission speed of the PCI Express standard will increase from 16 Gbps (2GB per second) to 32 Gbps (4GB per second). With Thunderbolt 4, you can easily expand your workspace and increase your productivity by adding a monitor for multiple applications' loading, media streaming, and more.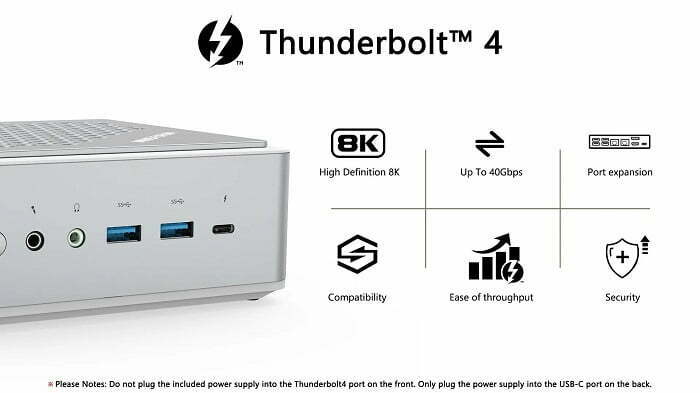 Wall Mount Support
The wall mount bracket is already included in the package. And it's easy to be fixed on the back of the monitor or TV. Saving your space.
Ports & Button for TH50
RJ45 2.5 Gigabit Ethernet Port × 2
USB 2.0 Port (Left Side of the Back) × 2
USB 3.1 Port (Gen2 )× 4
USB-C × 1
HDMI × 1
Display Port × 1
Thunderbolt 4 × 1
3.5mm Audio Jack(Green) × 1
Clear CMOS × 1
Kensington Lock × 1
MIC × 1