Description
*[Barebone = CPU/GPU/RAM/SSD not included]
Elitemini B550
Minisforum B550 is a high-performance mini PC specifically designed for gaming enthusiasts. Its excellent heat dissipation allows you to immerse yourself in your work and games without the distraction of noise. The two highlights of B550 are that you can replace its CPU to meet your quest for machine speed, and it can connect to a discrete graphics card via the included dock to reach an excellent graphics quality in demanding games.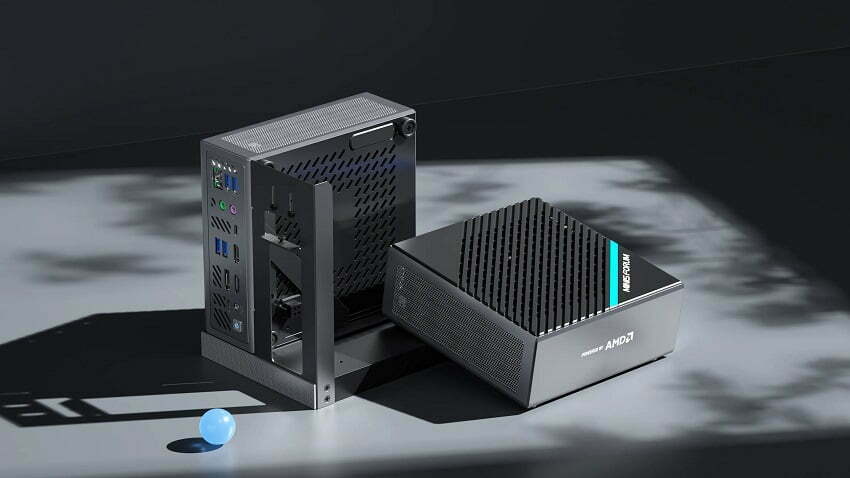 Features Highlight
Triple 4K Displays
B550 has excellent triple display solutions with HDMI *2 and Display Port.
Upgrade-Friendly
Dual-channel DDR4 which supports up to 64GB
M.2 2280 PCle SSD x 2
2.5 inch SATA HDD Slot x 1
Powerful Processor & Graphics
The features and benefits of B550 depends on the system configuration. The retail package will come with AMD Ryzen™ 7 5700G(8 Cores 16 Threads, max turbo frequency up to 4.6GHz) / AMD Ryzen™ 7 4700G (8 Cores 16 Threads, max turbo frequency up to 4.4GHz) and Radeon™ Graphics (Graphics Frequency 2000 MHz) / Radeon™ Graphics (Graphics Frequency 2100 MHz).
Elitemini B550
AMD Ryzen™ 7 5700G / AMD Ryzen™ 7 4700G
Radeon™ Graphics
DDR4 Dual channel
M.2 2280 SSD Slot × 2
Dual-Band Wi-Fi
CPU DIY
B550's unique CPU DIY mode allows you to replace your machine's CPU. B550 supports Ryzen 4350G/4600G/4650G/4700G/4750G/5600G/5700G. Please select the most suitable one among the specified CPUs according to your own needs.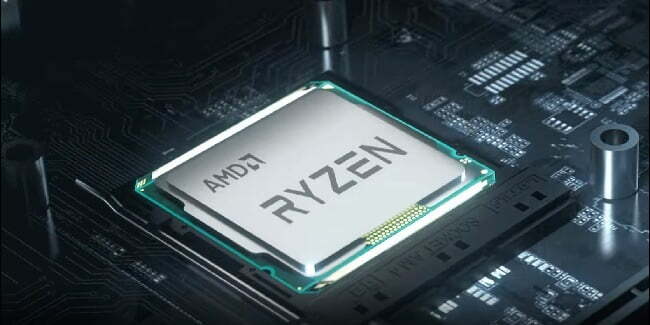 Discrete Graphics Card
Each B550 comes with one dock to support an external graphics card. The dock supports the vast majority of graphics cards on the market with its thickness less than or equal to 54 mm, and there is no limit to the length and width. For the specific installation method, please refer to the following motion picture.
Power Supply
There are two ways to power the PC. If you use AMD APU like 5600G or 5700G, there is a standard 19V power brick included in the package and you can use it directly without using the supporting dock. However, if you want to do some DIY and connect it with a dedicated graphics card, you will need to use your own ATX or SFX power supply. By doing so you can use desktop CPU like 5600X in this mini PC and the whole system's power consumption will be more than 600W. The mini host of B550 has cooling solution which supports 65w TDP.
Upgrade-Friendly
Optional configuration includes barebone / 16GB (8GB x 2) / 32GB (16GB x 2) memory and 256 / 512GB SSD. You can access the inside by removing the four screws that secure the bottom. There are three types of expansion space inside. You can further increase the capacity according to your own needs.
DDR4 dual channel SODIMM slot x 2 (expandable up to 64GB in total)
M.2 2280 PCle 3.0 SSD (no capacity limits)
2.5 inch SATA HDD Slot (no capacity limits)
Ports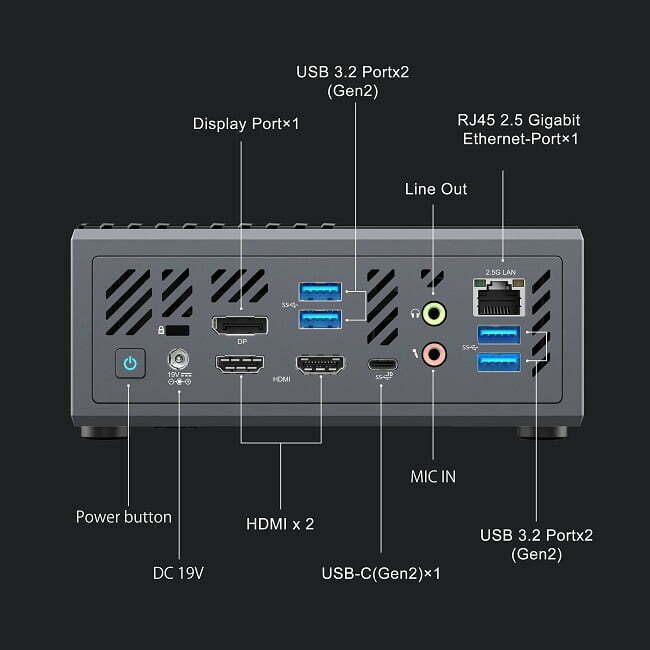 Easy to carry
Each standard package includes a suitcase that easily holds your B550 and adapter. Simple and stylish shape.