Description
MANUS Prime 3 Haptic XR Gloves Powered by Quantum AI
Experience the improved XR interaction of MANUS Prime 3 Haptic XR Gloves, powered by the Quantum AI. Prime 3 boasts high-fidelity hand tracking and tactile feedback in lightweight gloves for a realistic response to virtual and extended realities. By upskilling emergency responders and fine-tuning product design, the Prime 3 Haptic XR offers a powerful platform for immersive experiences.
Features
Advanced Quantum AI for Superior Hand Tracking: Realize the most accurate hand movements and gestures with tracking that continues even where optical systems fall short.
Ultra Lightweight Integrated Vibrotactile Haptics: Enjoy a comfortable and immersive experience with lightweight, non-obtrusive haptics.
Perfect Prop Handling: Experience unrestricted range of motion and magnetic immunity, ensuring a seamless and immersive VR experience.
Quick and Easy Setup: Ready to operate in under a minute with intuitive use and without needing complicated instructions.
Long Battery Life: Enjoy up to 12 hours of uninterrupted use, with battery swappable for extended use.
Quantum AI
The MANUS Prime 3 gloves are enhanced with Quantum AI. This advanced machine learning algorithm is trained with industry-leading Quantum tracking data and is seamlessly applied to your Prime 3 data in real time.​​The MANUS Quantum AI will be continuously improved over time and natively embedded in MANUS Core.​
Quantum data used by Tesla​
Tesla is currently using MANUS Quantum Metagloves to create a dataset which helps them train their Tesla Bots.
Quantum data training QUANTUMAI​
We are using Quantum Metagloves in a similar way to generate best-in-class finger tracking datasets which we use as the foundation for our Quantum AI.
Seamlessly applied to the Prime 3​
Quantum AI effortlesly improves Prime 3 data in real-time providing improved fidelity and accuracy.
Ultra Lightweight Integrated Haptics
Comfortable and unobtrusive. Free to perform your full range of motion without breaking immersion. Experience per-finger Haptics like never before. The combination of this powerful haptics system combined with the high-fidelity finger tracking of the MANUS Prime 3 Haptic XR make it the perfect solution for training and design validation in VR.
High Comfort
Light Weight
Intuitive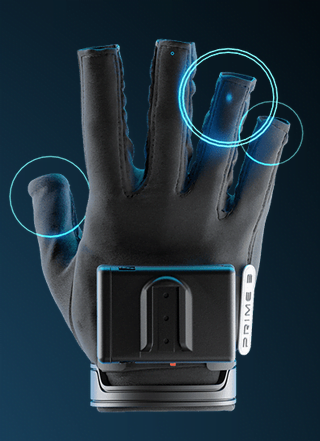 Military, First Responder & Civil VR Training.
Prime 3 Haptic XR gloves offer immersive and interactive experiences, allowing trainees to more efficiently develop vital skills and enhance the learning process through enabling communication and by providing multisensory feedback.
Virtual Prototyping & Design Validation.
Prime 3 Haptic XR streamline the design process, providing a realistic sense of objects without physical prototypes. This allows the user to validate the design through human interaction early in the process, eliminating costs and saving time.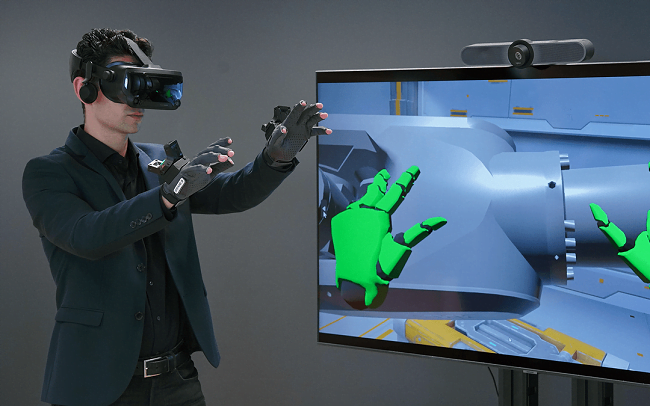 Uninterrupted workflow.
Swappable batteries to stay charged
The Prime 3 Haptic XR Gloves come with swappable batteries, to provide you with an uninterrupted workflow. The Prime 3 batteries can last up to 12 hours during continuous use on a full charge. Additionally, the Prime 3 Haptic XR Gloves can be powered by an external power source through the USB Type-C port.
Charging station
Fully charge up to 6 batteries simultaneously in 1 hour. This charging station is also compatible with Quantum Metagloves, older Prime Series and Pro Tracker batteries, so you can charge your Prime 3 and SteamVR Pro Tracker batteries at the same time.
Compability
Easily integrates with OpenXR, Unity, Unreal, VRED, and IC.IDO. It also supports Windows 10 and Windows 11 operating systems.