Description
Scorpion
With the highly stable steel structure, fully electrical tilting capabilities, LED / RGB lighting and much more, Our Newly developed Cool Scorpion looking chair – SK SCORPION is the future of high-end home and office ,and gaming computer work environments. It offers functions that enable the user to experience unprecedented comfort and quasi total immersion through strategically positioned monitors, audio system and accessories. The result is a complete computer office, ergonomically optimized, with a minimal footprint that improves overall performance and productivity and health and comfort. Sitting on our chair can help a lot for relieving health problems like lower back pain, herniated discs, sciatica, and neck pain and also enhance performance and viewing effects.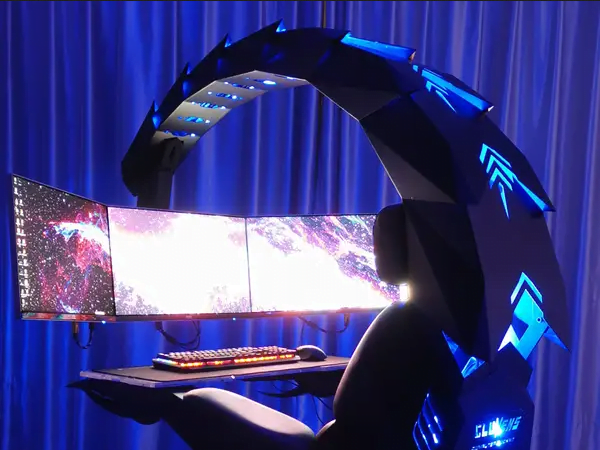 Features
Capacity User: 330 lbs max. (150 kg) User Height up to 6'5".
Versatile Monitor Mount: The SK SCORPION monitor mounts allows the use of a single monitor up to Ultra wide 49" or 43" in size or triple monitor setups up to 3 x 29" other monitors configurations is available upon request.(VESA standard)
Lights On: Multiple LED lights, positioned on the upper section of the structure, provide soft lighting without glaring the displays. And also beautiful colorful RGB lights belts inside the structure.
Handmade Steel Frame: The structure is made of robust and stylishly Scorpion shaped frames built from 3/16″ thick High-carbon steel. All frames have a highly resistant powder coating finish.
Easy connect to PC and monitors: Connect your Mac, PC ,PS, Xbox, or other game console using the gaming station's selection of built-in inputs and outputs
Fully Adjustable by control panel: To get in and out of the workstation easily and to adjust the height and distance of the monitor(s), use the electrical upper section lifting and lowering controls. For the utmost comfort and to partially relieve back pressure, the station will tilt backward up to 170°degrees ( Flat position ) ,multiple seat and leg rest adjustments are also controlled by handy size control panel.
Operating Voltage: 110-240V~50/60Hz Suitable for worldwide standards , Power Consumption: 50~200 Watts
Monitor Mount : Maximum monitor mount weight capacity: 52.8lbs (24kg) Adjustable for distance and height!
Controls: Handy control panel / Tilting / Upper section height / Seat height / Back section of the seat / Leg rest LED no glaring Working lights ( On/Off ) / Decoration LED /RGB lights ( ON/OFF, colors)
Lighting Effect: LED lighting or RGB lights at frame changes color by remote control makes environment beautiful
Material & Finish : 2-4mm High -carbon steel with black sand texture powder coated paint ( with option for white or other colors)
Prebuilt HDMI/DP Cables for monitors
Wood Crate on Pallet Dimension: 180x70x120cm Gross Weight about 410lbs
Warranty: Electronic accessories, like Engines, push rods, lights, transformer, actuators, we can send replace spare parts free of charge for the first two years. From third year, we give cost price for those parts for customers to replace. The replace job is easy to handle by users
More Luxury And More Comfortable
Equipped with Luxury feeling reclining chair with thick Sponge PU leather very comfortable texture and superior quality, With recline to 128 degree ,and more to 170 degree for flat position for user.
More High- End Setting And More High-Tech
Manual push open/close of big sized Keyboard Electrical control for up and down of monitor roof arms; Electrical control for reclining to flat position-including the most comfortable Zero Gravity position.
More Care And More Healthy
Monitors distance adjustable from 23" to 32" makes a healthy & more comfortable viewing experience.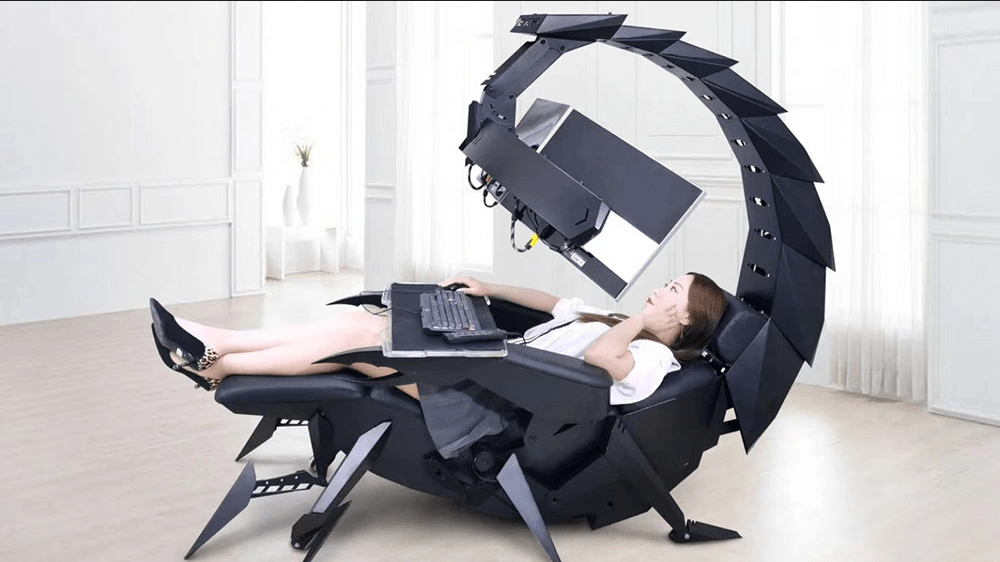 More Leisure
Have cup holders on the armrests for beers/coffee/ashtray etc…& have side cabinets under armrest that can be opened.




More Easier
It's almost fully assembled inside the shipping crate, only 1-2 hours of installation.