Description
HTC Vive Pro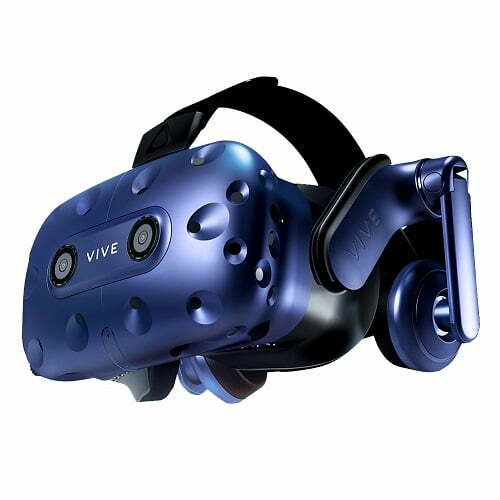 Crossing Realities
VIVE Pro delivers immersion unlike any other: true-to-life precise tracking, ultra-vibrant colors and uber-realistic sounds create a world that transports you to any scene in split seconds. With the highest quality display of any VR headset, VIVE Pro gives life to any realities.
Hi-Res Headset (HMD) + 3D Spatial Audio
Re-engineered and Optimized Ergonomics
Latest SteamVR Tracking System
Wireless Powered by Intel® WiGig
Spot Every Detail
See the difference with VIVE Pro. The all new screen panels dazzle the eye and sweep you away into your wildest imagination. Uncompromising, super-rich colors and details bring objects to life like never before.
2880 x 1600 |

615PPI

37% |

PPI Increase

78% |

Pixel Increase
3D Spatial Audio
Hear every world as intended by its creator. The Hi-Res certified HMD and headphones are now integrated with 3D spatial sound to deliver for true-to-life immersive audio. The powerful amplifier is capable of driving high-impedance headphones – creating soundscapes that will change your world. The dual microphones allow for active noise cancellation as well as enabling Alert Mode and Conversation Mode – so you hear your surroundings while being immersed in any realities without the need of taking off the headset.
Hi-Res Audio Certification
Powerful Digital Amplifier
Dual Microphones -Active Noise Cancellation Alert Mode and Conversation Mode
Designed for Comfort
VIVE Pro is engineered from top down for optimized ergonomics. Just place the headset on your face, slide the strap over your head–it's done. The new chassis evenly distributes the weight of the device to achieve an optimal center of gravity – creating comfort in VR that is unlike any other.
Optimal Center of Gravity
Increased Point of Weight Support
24% Increase in Face Gasket Surface Area for Lowered Stress
Quick Adjustment Dial
VIVE PRO HMD Includes
Headset
Headset cable (attached)
Face cushion (attached)
Cleaning cloth
Earphone hole cap (2)
Documentaion
Link box
Power adapter
DisplayPort™ cable
USB 3.0 cable
Mounting pad