Description
Flight Velocity FV6 – G1000 Cockpit Panel Flight Simulator Kit
Take your flight sim to the next level of realism with the Flight Velocity G1000 Cockpit Panel kit. This kit provides you everything that you need to get a great looking, functional flight simulator panel set up right away.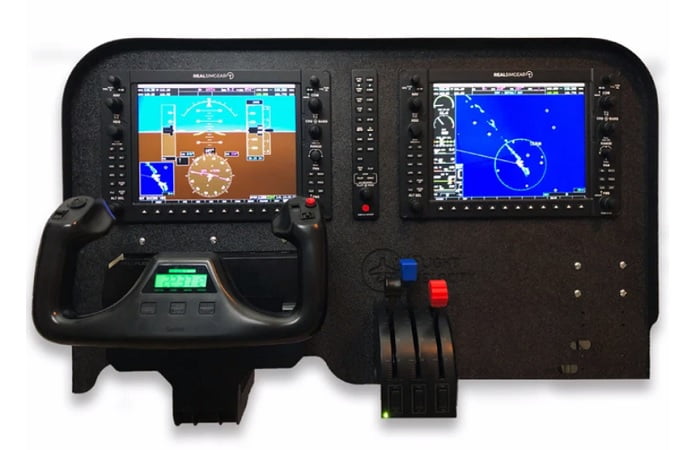 –
This kit contains the following components:
1 FV6 Mid Profile Cockpit Panel
1 RealSimGear G1000 (PFD, MFD, and Audio Panel)
1 Logitech Flight Yoke and Throttle Quadrant
1 Set of Logitech Rudder Pedals
FV6 Panel Details 
Specially designed to incorporate RealSimGear's G1000 PFD, MFD, and audio panel bezels, the Flight Velocity FV6 G1000 Cockpit Panel allows you ample space the G1000 PFD, MFD, and audio panels as well as the Logitech flight yoke, throttle quadrants, or TPM unit. Fully compatible with Saitek/Logitech Pro Flight® series hardware, as well as RealSimGear's G1000  units, our patented cockpit panel is designed from the desk up for strength, durability, and high performance. Proudly constructed in the USA from high-strength ABS plastics, the FV6 G1000 Cockpit Panel will give you hours of realistic flight time at an equally realistic price.
Room for RealSimGear's G1000 PFD, MFD, and audio panel bezels, standard yoke, throttle quadrants, or TPM
Fully compatible with Logitech G/Saitek Pro Flight® series hardware
Patented design proudly constructed in the USA from high-strength ABS plastics