Description
Ultimate Gaming with NVIDIA G-Sync Technology
* Panel native refresh rate is 144Hz, and can be overclocking to 165Hz by G-Sync.-
Wide Quad HD Resolution
At four times the resolution of a traditional 720p panel, and almost double that of a traditional 1080p display, WQHD results in a much sharper image, with no distortion or stretching, all while maintaining the same 16:9 aspect ratio. WQHD resolution also provides up to 77% more screen space for a more immersive experience. *The image contained herein is simulated to reflect an image under different resolution (or scheme) for demonstration purposes only, and may not be the actual image displayed from the product.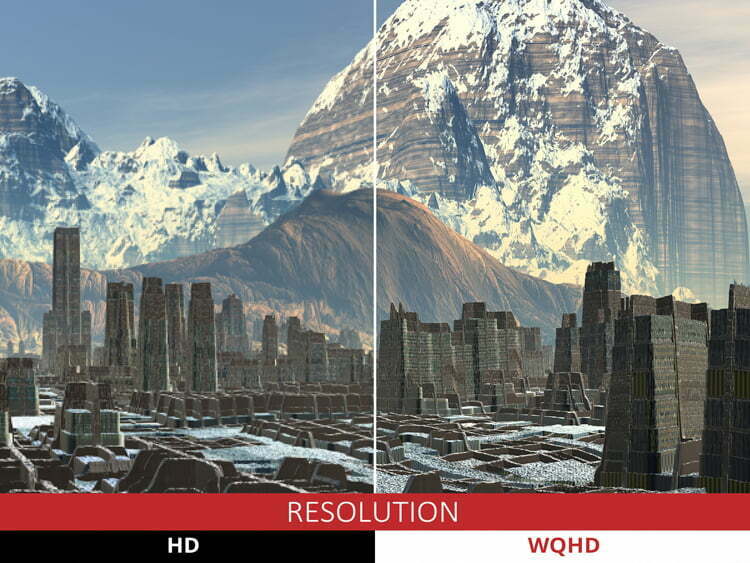 165Hz Refresh Rate
With a swift 165Hz* refresh rate, this monitor delivers greater visual fluidity and awesome graphics no matter how quickly the in-game action unfolds. Say goodbye to annoying tracers and motion blur, and up your A-game with the smoothest visuals possible.
*165Hz with DisplayPort 1.2a connection port and can be active by Overclocking funtion via OSD menu.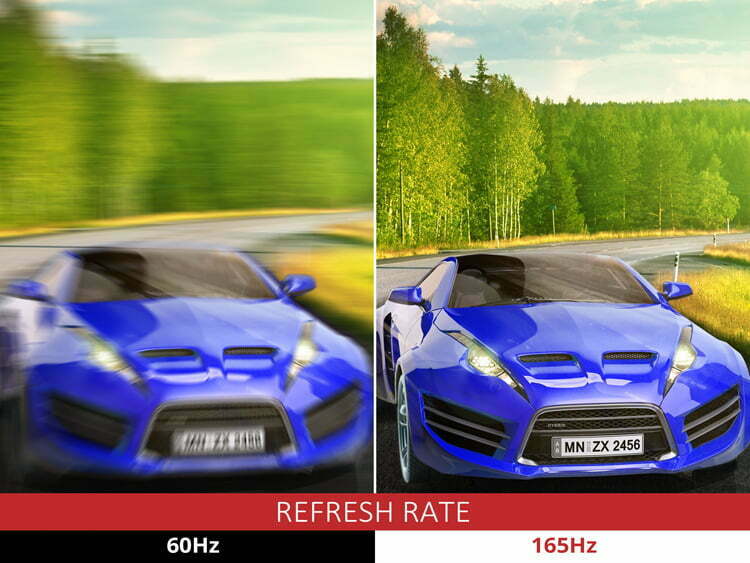 SuperClear IPS-Type Panel Technology
Enjoy accurate and vivid colors with consistent levels of brightness no matter the vantage point. With SuperClear IPS-Type panel technology, this monitor delivers the same image quality whether you are looking at the screen from above, below, the front, or the side.
NVIDIA G-Sync™ Technology
NVIDIA® G-SYNC™ technology seamlessly synchronizes the frame rate output between your graphics card and monitor. This eliminates screen tearing, and minimizes stutter and input lag for the most breathtaking gameplay experience.
NVIDIA Ultra Low Motion Blur Technology
Experience smooth movement and sharp edges in even the most action-packed gaming scenarios. NVIDIA Ultra Low Motion Blur (ULMB) decreases motion blur and minimizes ghosting when the on-screen action gets heated. So whether you're racing, shooting, or strategizing, the images on screen remain as sharp and smooth as your own reflexes.
Adaptive Contrast Control
Even when a game's image contrast is low, this monitor can dynamically adjust the contrast for an optimal contrast level in any gaming situation. This gives you the most detail in every scene of any world you are questing through.
Dark Boost
Dark Boost adjusts the monitor's gamma curve to enrich the dark tones in a scene, revealing enemies lurking in the dark. Gain control and dominate the competition with enhanced visibility, even in the darkest scenes.
Ultra-Fast Response Time
With an ultra-fast 4ms response time, this monitor delivers smooth images without streaking, blurring or ghosting. For any and all fast-paced action sequences, you'll be glad your monitor reacts as quickly as you do.
Customizable Game Mode Settings
A Game Mode hotkey opens pre-calibrated settings that deliver the best blend of color and technology for specific gaming scenarios. In addition, two customizable "GAMER" settings provide individual user preferences for specific games.
Ergonomically Designed for Gamers
To lock in that perfect angle necessary for drawn out epic gaming sessions, this monitor features a fully adjustable ergonomic stand capable of considerable swivel, pivot, tilt, and height adjustment. An integrated headphone hook keeps your headphones within arm's reach, while a cable managing stand design reduces clutter around your gaming space.
Enhanced Viewing Comfort
Sometimes gaming can be a marathon. With Flicker-Free technology and a Blue Light Filter, this monitor helps to eliminate eyestrain that comes with extended viewing periods – meaning you can outlast and out-game your opponents just as their eyes begin to fail them.
Dual Integrated Speakers
Designed with dual integrated speakers, this monitor combines incredible screen performance with stereo sound for an immersive multimedia experience.
Highly Accurate Color Settings
6-Axis Color Enhancement lets you individually adjust six primary colors: red, yellow, green, cyan, blue, and magenta. With a completely customizable color profile, you'll enjoy vivid scenes in any of the worlds your gaming may take you.
Immersive in the gaming atmosphere
Let you in the gaming atmosphere! The monitor features game lighting indicator, the color of the light will change by automatically detecting the color distribution of gaming scenery, creating immersive environment for the gamers.