Description
Thrustmaster TSS Handbrake Sparco Mod
Features
1- Officially licensed by Sparco, the no.1 motorsport equipment maker in the world
2- 2 modes: handbrake & sequential shifter
3- 1:1 scale replica gear knob (3.4''/85mm in height)
4. Compatible with PC (Windows 10, 8 & 7)
Progressive handbrake and sequential shifter by Sparco: master your drifting technique!
Officially licensed by Sparco
2-in-1 product: lets you change from the shifter (+/-) position to the progressive handbrake position and vice versa.
90% metal: steel and aluminum.
Handbrake lever adjustable in horizontal position (GT mode) or in vertical position (Rally mode).
High-grade components: technical bushings made in Germany, industrial-class flat coil springs with 8.8lbs/ 4kg resistance.
1:1 scale replica gear knob (3.4''/ 85mm in height): crafted of aluminium, from the Sparco rally and drift range.
Lever adjustable in height.
H.E.A.R.T HallEffect AccuRate Technology ™:
precision that won't decrease over time (contactless magnetic sensor)
no tact switch or potentiometer (for an unlimited product lifespan)
Attachment system for cockpits and mounts: built-in M6 screw threads.
Box contents
Handbrake/sequential shifter, detachable gear knob/handbrake lever, mini Allen key, Allen key, key wrench, detachable DIN/USB cable, user guide and warranty information
Compatible with the ecosystem on PC Windows®10, 8 and 7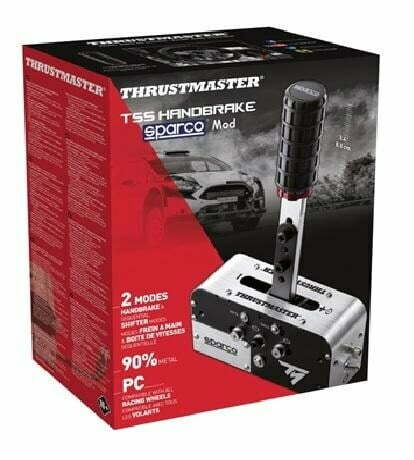 Compatible on PC:
with the recommended Thrustmaster racing wheels: T150, TMX, T300 Series, TX Series, T500 RS, TS-PC RACER, TS-XW RACER and T-GT (sold separately)
with all racing wheels of any brand