Description
Thrustmaster TCA Quadrant Boeing edition
Add another level of immersion to your flight simulator with the TCA Quadrant Boeing Edition from Thrustmaster. Inspired by the Boeing 787 airliner, this quadrant enables you to experience realistic takeoffs and landings, making this an essential add-on for owners of the TCA Yoke Boeing Edition Flight Stick.
Sporting a modular design, you can customize your quadrant to match a wide range of aircraft styles. This quadrant includes three axes with swappable levers, dual thrust levers with functional thrust reversers, and auto throttle buttons. Control your flight sequences with speed brake and flap levers, autopilot, and a total of 17 physical action buttons. You can even add a second quadrant for additional flight control options. The TCA Quadrant Boeing Edition offers plug and play connectivity, allowing you to use this seamlessly with the TCA Yoke Boeing Edition Flight Stick on a Windows 10 PC, Xbox One, and Xbox Series X|S.
Feels Like A Dream
TCA Quadrant Boeing Edition is an aviation system officially licensed by both Boeing and Xbox, for Xbox One and Xbox Series X|S. It is also compatible with PC. TCA Boeing Edition, Thrustmaster's new flagship civil aviation range, is a line of products allowing for cutting-edge new features with a highly-specific goal in mind: replicating the different controls, flight kinematics and sensations experienced by real Boeing pilots at the controls of a Boeing airliner.
Boeing Real-Life Linear Resistance Feel
Inspired by the real-world sensations experienced with the real Boeing Dreamliner throttle quadrant, TCA Quadrant Boeing Edition replicates the actual resistance force felt by pilots when moving the thrust levers up or down.
Magnetic Technology
TCA Quadrant Boeing Edition features proprietary H.E.A.R.T magnetic technology, for surgical precision (16-bit resolution) on each of the throttle quadrant's 3 axes.
Swappable Levers
All throttle quadrant levers (4 included) can be swapped, allowing for an ambidextrous flight experience thanks to the ability to place the speed brake and flaps levers in the user's choice of position.
Boeing Autopilot
TCA Quadrant Boeing Edition includes the iconic Boeing autopilot feature for realistic control of the aircraft's altitude, airspeed and heading. The design and operation of this rotary knob were also inspired by the real Boeing Dreamliner throttle quadrant.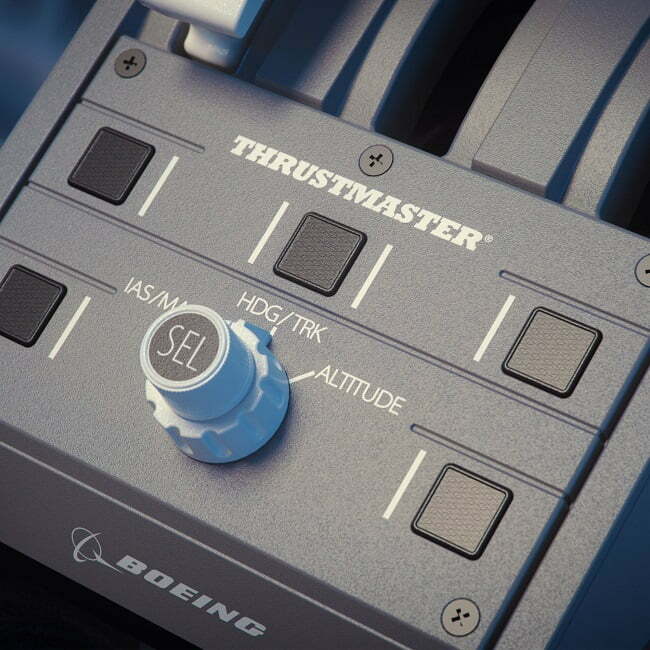 Main Features
Flight Precision
HallEffect AccuRate Technology (H.E.A.R.T.) is an exclusive control style that offers frictionless 16-bit resolution on all throttle quadrant axes for surgical precision, essential for lifelike flying.
T.A.R.G.E.T. Software Compatible
Modify your controls with the free Thrustmaster Advanced Programming Graphical Editor (T.A.R.G.E.T.) software suite, giving you basic, advanced, and script modes so you can fine tune your flight experience.
Expandable Design
A connector allows you to expand upon your quadrant with TFRP or TPR rudder systems and even add an additional quadrant for deeper immersion.
Plug and Play Design
The TCA Quadrant Boeing Edition is automatically recognized in Microsoft Flight Simulator for Windows 10 PC. This quadrant must be connected to the TCA Yoke Boeing Edition when used with the Xbox Series X|S, and Xbox One consoles.