Description
Get an Airbus at home
Thrustmaster has released the TCA Officer Pack Airbus Edition for anyone who likes to spend their flight-sim hours in an Airbus aircraft and who wants to do this realistically. The side stick is an ergonomic replica of the joystick used to control the Airbus A320. The Throttle Quadrant has the typical capabilities of an Airbus aircraft and an Engine Panel inspired by the A320 Neo. Naturally, the stick and throttle also work with all other types of aircraft.
An accurate and versatile side stick
Thrustmaster also uses magnetic sensors in this flight stick, which makes it extremely accurate. When you don't have rudder pedals yet, the rudder is easy to operate using stick twist. A new feature for this type of joystick is 'rudder lock.' If you do have rudder pedals, you can mechanically disable the rotation of the stick, so you don't suffer from rudder input from your stick.
The A320 side stick is suitable for both left- and right-handed pilots and the modular button configuration is also adjustable. Besides this, the Thrustmaster's A320 side stick has a throttle axis on the base of the stick, with reverse thrust function.
Power settings as in an Airbus
The Airbus Throttle Quadrant has two separately operating thrust levers that are equipped with fully functioning thrust reverse levers and TO/GA buttons. The resistance of the Thrust Levers can be easily adjusted by tightening or loosening a resistance screw.
What makes this quadrant special and different from all other available throttle quadrants is that the throttle can be used linear and in Airbus style. By converting a mechanical switch on the quadrant, it is possible to use (or not use) the typical Airbus mode, such as Idle, Climb, Flex, and TO/GA.
Besides this, the TCA Quadrant has an engine panel with replica buttons from the Airbus A320 Neo, including 'Engine Master' switches.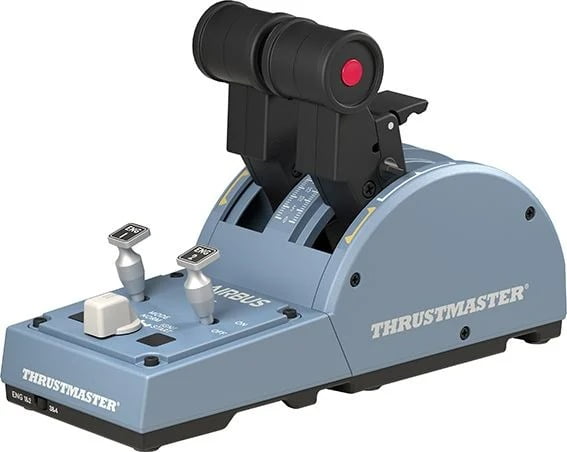 15 Iconics Function Inspired By Airbus
The TCA Quadrant Add-On Airbus Edition allows for a super-lifelike and immersive gaming experience with its 15 functions, including realistic buttons and detents specially designed for amazing control of approach and landing sequences.
Fly with greater levels of realism and immersion
Exclusive precision, thanks to H.E.A.R.T (HallEffect AccuRate Technology) magnetic sensors:
Surgical precision (i.e. 14-bit resolution: 16,384 x 16,384 values!) for the pitch axis and roll axis
Magnetic technology ensures excellent precision that won't decrease over time
Native integration in Microsoft Flight Simulator 2020
Plug and play: Both the device is automatically recognized in the game.
Compatible with T.A.R.G.E.T software
Thrustmaster Advanced pRogramming Graphical EdiTor software: load or create specific mapping presets for each aircraft, to extend or save all of your favorite settings.