Description
Thrustmaster T248
Thrustmaster's hybrid next generation of racing simulation for PS5™/PS4™ and PC
Feel racing sensations through the wheel thanks to HYBRID DRIVE Force Feedback, enjoy a fully immersive experience and build up your driving skills. Optimize your racing lines, control your drifts and outmaneuver your rivals with the T128 and its T2PM pedal set — both of which feature reliable, ultra-precise magnetic technology.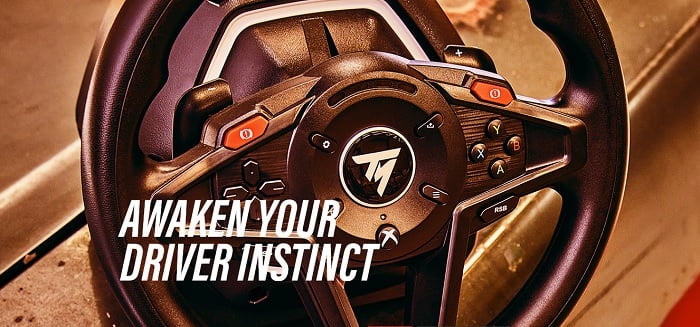 Main Features
Immersive Force Feedback to really feel the sensations of racing: speed, surfaces, bumps and impacts, loss of tire grip
Engine speed LEDs for optimized gear shifting
Magnetic paddle shifters (patented H.E.A.R.T technology) for instant responsiveness, and a clear gear-shifting feel
Modern design including 13 buttons, suited to all styles of vehicles and games
Quick attachment system suitable for desks and tables up to 2.2 inches / 5.5 cm thick
Magnetic 2-pedal pedal set (patented H.E.A.R.T technology) featuring 12-bit precision that won't decrease over time
Next-generation HYBRID DRIVE technology delivering 20% more power than other Thrustmaster hybrid racing wheels (T150 series)
Officially licensed for PlayStation 5 and PlayStation 4, and compatible with PC (Windows 10/11)
Immersive Force Feedback
The HYBRID DRIVE technology in the Force Feedback system lets gamers experience all the fun, intuitive sensations of driving. The weight of each vehicle, bumps and impacts, loss of tire grip in corners, and road surface types can all be felt through the wheel, for immersive racing that will awaken your driver instinct.
Magnetic Paddle Shifters
Thanks to H.E.A.R.T magnetic technology, the paddle shifters allow for super-fast gear shifting (30-millisecond response time) with clear and precise activation, for sporty performance and while avoiding driving errors. This patented technology, delivered via a contactless, frictionless magnetic system, provides outstanding durability over the long term.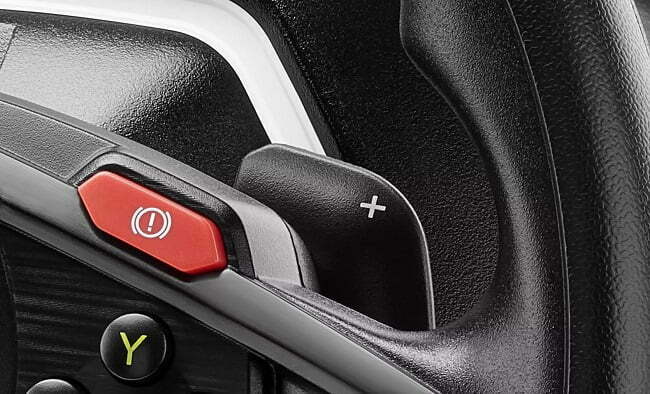 Engine Speed LEDs
The 4-color LED strip lets you monitor the engine speed without taking your eyes off the road. The LEDs flash when you need to shift to a higher gear, allowing you to optimize your gear shifting. The list of compatible games on PlayStation and PC is updated regularly on the Thrustmaster technical support website.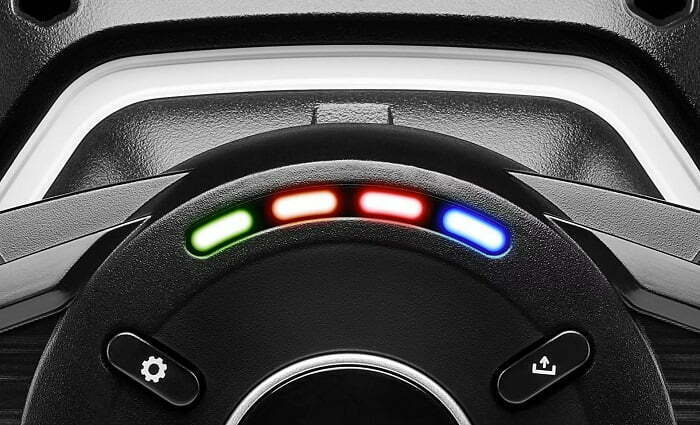 Responsive, Versatile Design
The round, lightweight wheel rim gets the most out of all the Force Feedback system's power, for maximum velocity. Its 270° to 900° angle of rotation automatically adjusts based on the vehicle being used in the game, for driving adapted to all vehicle styles (GT, rally, F1, trucks). Thanks to the 13 action buttons on the racing wheel, you won't have to use a gamepad.
Wheel-Mounted Handbrake
The front of the wheel includes 2 handbrake buttons — easily accessible with the user's thumbs for daring skids, as well as freestyle maneuvers. The buttons' positioning is symmetrical, for ambidextrous handling and enhanced control in any direction.
Magnetic Pedal Set
The T2PM magnetic pedal set included with the racing wheel offers amazing thousandths-of-a-second precision for crisp acceleration and well-proportioned braking.
The T2PM pedal set delivers a completely smooth experience without any risk of losing precision like more traditional pedal sets equipped with potentiometers, making it a powerful and reliable aid for improving your driving skills.