Description
Wider View. Winning Play.
Super Ultra-Wide Curved Gaming Monitor
Extremely large 43 inch screen with 32:10 aspect ratio.
120Hz sweep frequency. Smooth gaming performance.
Integrated 5W stereo speaker system.
Wrapped Up in Reality
The CJ89 offers a vivid gaming experience with its 3840 x 1200 resolution. Its 32:10 aspect ratio and super ultra-wide curved monitor offers wider angles of field of view than virtual reality gear. This means seeing your full game world: stunningly realistic and amazingly immersive!
Wider Field of View
The CJ89 with its 43" super ultra-wide curved panel, 32:10 aspect ratio and field of view of 99° gives you an ultimate virtual reality experience, leaving behind faded past of 16:9 aspect ratio and 60° field of view. Your immersive gaming experience will be awe-inspiring!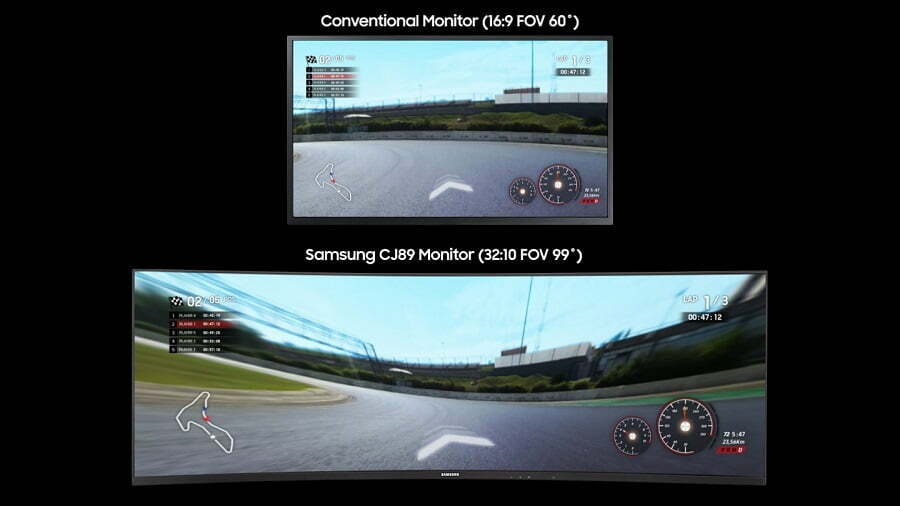 3000:1 Contrast Ratio
Samsung's VA panel technology supports a 3000:1 contrast ratio that delivers deeper blacks, brighter whites, and richer colors for clearer, more vibrant movie and game scenes.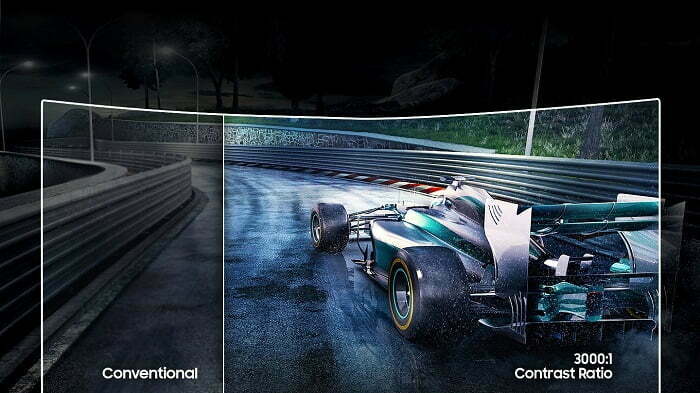 Rapid 120 Hz Refresh
The rapid 120 Hz screen refresh rate minimizes image lag and motion blur for smoother gaming. The user-friendly 60 Hz settings let you quickly optimize performance via the on-screen display without having to access the display setting menu.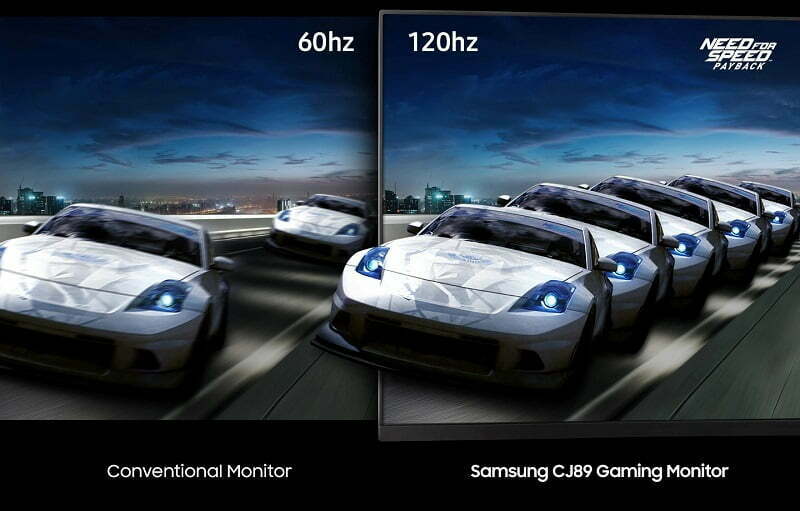 Picture-by-Picture
With Picture-by-Picture you can connect and view input sources without degrading the original image quality. Picture-by-Picture offers convenience for PC games. For example, you can watch a movie and do a web search whilst playing your favorite game.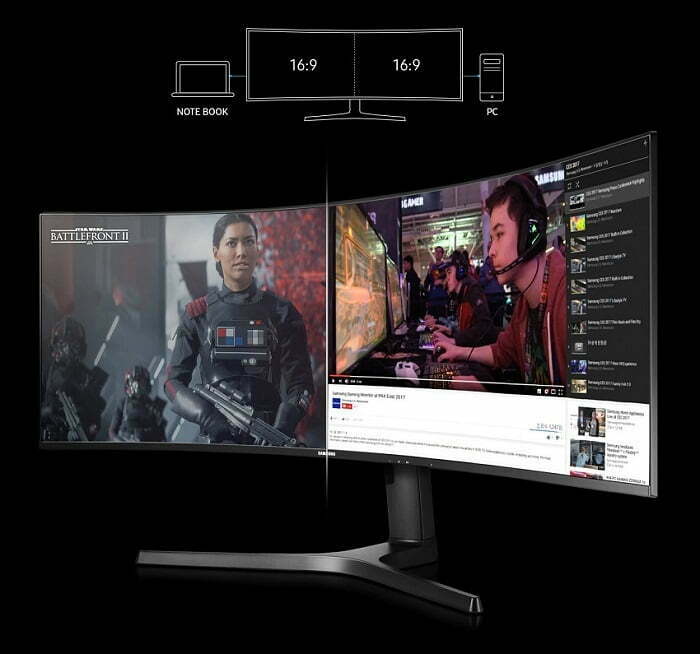 Built-In KVM Switch
The built-in KVM switch lets you control two devices connected to the monitor with just one keyboard and mouse. Instantly toggle control between the devices with the one-touch button conveniently located on the underside of monitor panel.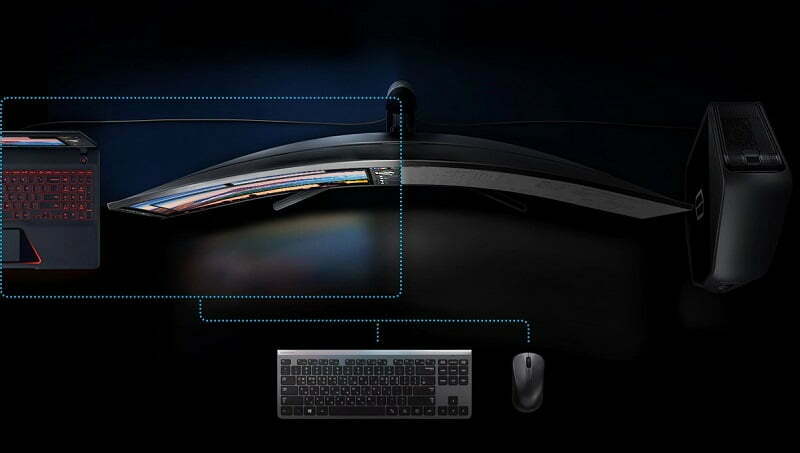 Two USB Type-C Ports
USB Type-C transmits data, video and audio, and power all over a single cable. Connect a smartphone, tablet, or laptop to one of the monitor†s two USB Type-C ports to display content onscreen and charge the device at the same time.
5W Stereo Speakers
The built-in 5W stereo speakers provide a powerful soundstage for you to enjoy all your games, music and movies in rich, clear sound while also saving space on your desk.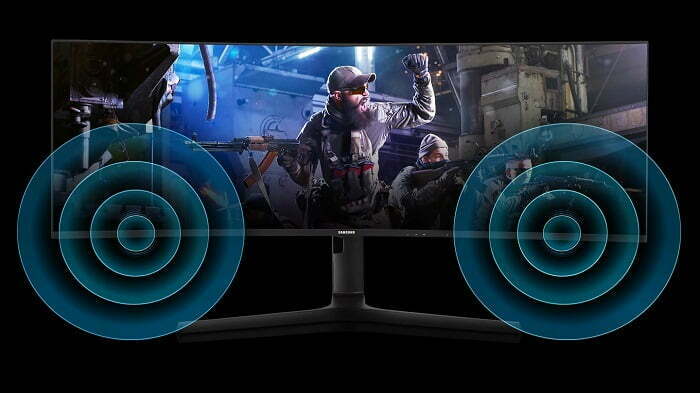 Eye Comfort
Eye-Saver Mode reduces fatigue-inducing blue light emissions and Flicker Free technology suppresses distracting screen flicker, letting you play for longer with less eye strain.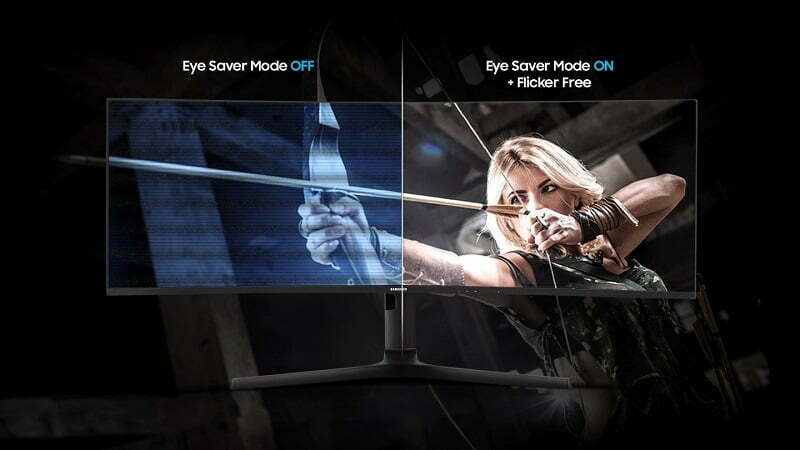 Optimized View
The swivel/tilt and height-adjustable stand offers all the flexibility you need to position the screen for maximum comfort. The panel's VESA Standard mount also offers the option of mounting on VESA-compatible arms.