Description
https://youtu.be/JTWmPnYww-I
A new reality, in perfect detail.
The World†s First HDR QLED Gaming Monitor
Add the ultimate visual experience to your gaming machine with the world's first HDR QLED gaming monitor, an innovative blend of High Dynamic Range (HDR) and Samsung's new Metal Quantum Dot technology.
New Metal Quantum dot
Samsung QLED Monitor delivers purer, brighter, and more lifelike colors — especially reds and greens — than conventional monitors. Samsung's new Metal Quantum Dot technology ensures longer lasting, more natural colors, whether you're gaming or working in applications where color accuracy is critical.
High Dynamic Range
The CHG70 QLED gaming monitor has HDR support that delivers a greater range of luminance levels. It renders dark areas darker and bright areas brighter in such ways that images appear in as much detail as the game developers intended.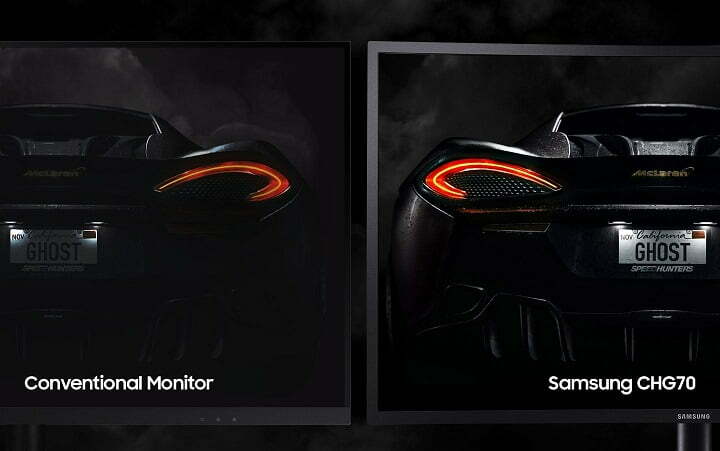 Wide Quad HD (WQHD) Resolution
With a pixel density of 2560×1440 approximately 1.7 times higher than Full HD, the CHG70 delivers game scenes and characters in captivating detail, giving you a panoramic view of the whole battlefield so you can spot your enemy sneaking up on you from any corner.
1,800R Curvature
Designed to meet your everyday gaming needs, the CHG70 features an industry-leading 1,800R curvature that gives you the feeling of being pulled in and wrapped around in your gaming world.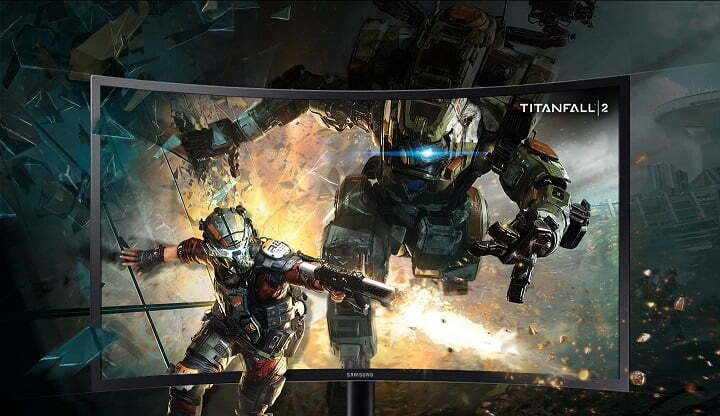 AMD FreeSyncTM 2
The CHG70 supports AMD's upgraded FreeSyncTM 2 technology for a pixel perfect, smooth gaming in any genre, even HDR games*.
Refresh rate 144Hz
The rapid 144Hz screen refresh rate minimises image lag and motion blur for smooth gaming, while user-friendly 60Hz/120Hz settings let you optimise monitor performance, on-screen display, without having to it each time in the display setting menu.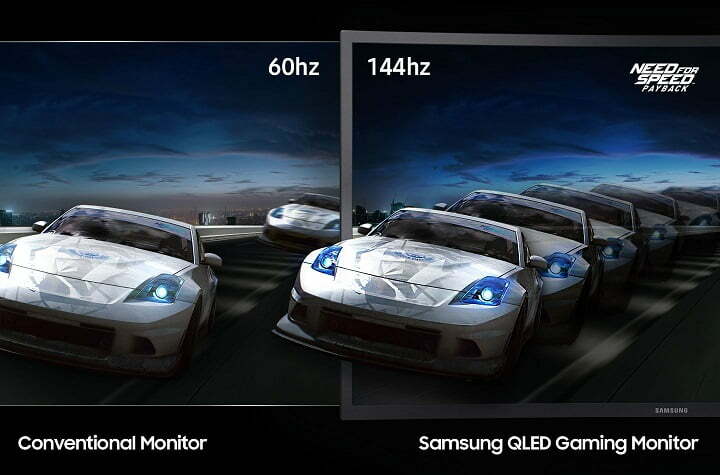 Arena Lighting
The CHG70's Arena Lighting projects a pulsating lightshow on to a wall behind the monitor, adding extra atmosphere to your gameplay.
On-Screen Display (OSD) dashboard
With Samsung's OSD dashboard menu optimally tailored for gamers, you can have a full view of key game settings at a glance and use shortcut keys to change the settings the way you want them. Set this Good Design Award winner and dive straightaway into the game.
Multiple Game Modes
Developed in concert with the Samsung Galaxy Team, the semi-final winner in the LOL World Championship 2016, the CHG70's factory-calibrated game display modes instantly optimise black gamma levels, contrast ratios, sharpness and color value settings for any game genre, be it FPS, RTS, RPG, or AOS.
3000:1 contrast ratio
Samsung's advanced VA panel technology minimises light leakage across the entire screen, and delivers a 3000:1 contrast ratio for deep blacks and brilliant whites in even the darkest and brightest scenes.
Black equalizer
The CHG70's 20-step Black Equalizer adjusts dark areas in games to whatever brightness level you want, letting you spot enemies hiding in even the darkest of hiding nooks. Its 3000:1 contrast ratio keeps images incredibly sharp even in the darkest or brightest scene.
Dual-hinged stand
The strong dual-hinge stand, designed for the most demanding gaming, gives you precise control over how you position the display panel — for the winning edge in any onscreen contest. It also shows off the gamer-friendly design and provides a convenient place to hang your headphones when not in use.
Flicker Free Technology
Samsung's Flicker Free Technology dramatically reduces distracting screen flicker to let you play for longer in greater comfort.
Eye Saver Mode
The CHG70 features an Eye Saver Mode which cuts down blue light emissions to a substantial extent which increases eyestrain and visual discomfort.
Multiple ports at work
The CHG70 has a DisplayPort and 2 HDMI ports, providing a multiple connection interface that lets you hook up PCs, game consoles, additional monitors, and other devices with ease, all to meet your multi-tasking needs.