Description
Saitek Switch Panel Module
MULTIPLE IN-COCKPIT CONTROLS
Saitek's Professional Flight Switch Panel is ideal for expanding the number of controls in your flight simulator setup. Attach it to your Logitech G Flight Yoke, place it atop your desk, or even mount it to your own custom cockpit setup. Control your landing gear and lights, engine power and other important aircraft functions, all from one compact unit.
FIVE-POSITION MAGNETO DIAL
Ignites Your Engines. Flight Switch Panel accommodates a wide range of different aircraft and features a five-setting rotary switch that individually controls the magnetos in your plane's ignition system. The 'R' and 'L' positions activate their respective magneto in each engine, 'BOTH/ALL' activates every magneto, and moving to 'START' engages the starter. Once engaged, the engines and magnetos turn, working in unison to fire at exactly the right time in the ignition process.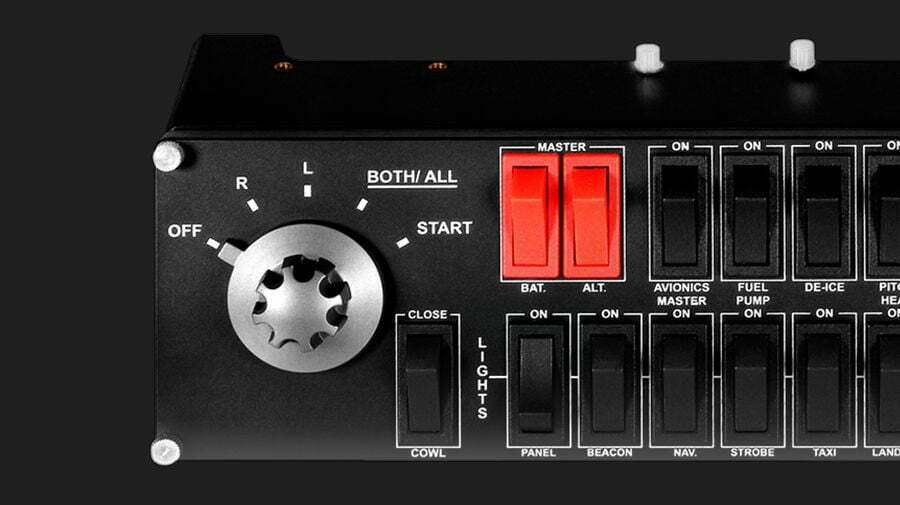 REALISTIC LANDING GEAR CONTROL
With LED Indicators. Bring your plane's landing gear up or down with a satisfying click of an actual control lever. Convenient LEDs provide visual indication of real-time gear status from FSX and Prepar3D. Now you can see the exact state of your landing gear with a mere glance at the Switch Panel.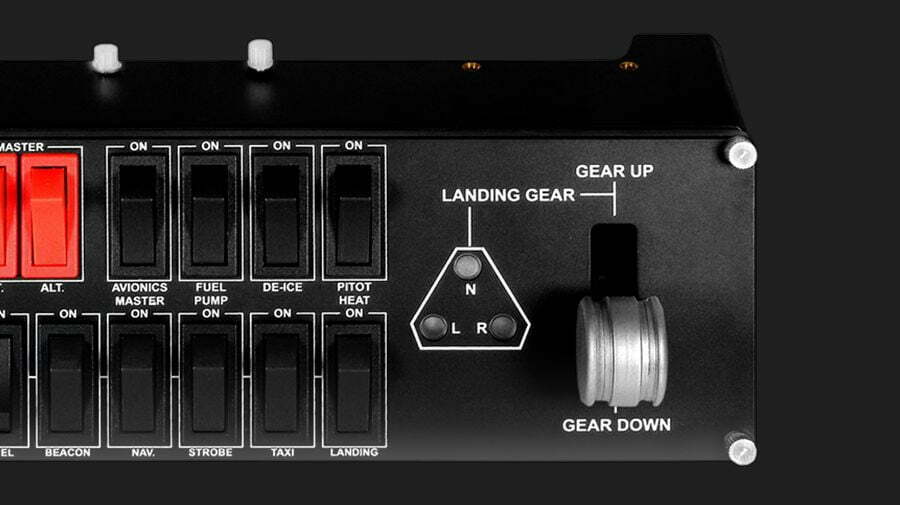 Fully Customizable for All Flying Conditions
Modular and Interchangeable. The Logitech G range of panels can be situated one on top of another or side-by-side. Want the Multi Panel above the Radio Panel? Done. Want your Switch Panel to the left of your Yoke? Go for it. Easy-to-use mounting brackets provide the means to arrange your flight simulation setup in a configuration only limited by your imagination.
Simple Installation
Plug-and-Play All the Way. Your panel works with Windows 7, 8.1 and 10 and, following the quick installation of a small plug-in from the support page, is compatible with your favorite flight simulation software for PCs including FSX – Flight Simulator X, X-Plane 10, and Prepar3D®.
Learn to Fly an MD80
Simulate the Actual Aircraft with This Kit. For a quick simulation configuration to get you in the pilot's seat of an MD80 twin-engine commercial jetliner, this bundle is the recipe:
1 Flight Yoke System
2 Flight Instrument Panels
1 Flight Switch Panel
1 Flight Radio Panel
1 Flight Multi Panel