Description
MSi Trident 3 Series Gaming Desktop
THINK SMALL. PLAY BIG.
The world's smallest true gaming PC. The Trident series are packed with high performance gaming components in a compact case. Boosting incredible power and performance levels that will fit all gamers' demands, the MSI Trident series redefine the size of PC gaming
Each MSI GAMING Desktop has its own set of unique advantages, developed with MSI's G.A.M.E. Unlimited values in mind. Entrenched with Gaming Performance, Absolute Gaming DNA, Magnificent Audio and Essential connectivity, MSI gaming desktops will get you to game unlimited.
Features
Windows 10 Home
8th Gen Intel® Core™ i7-8700 processor with DDR4 memory
The world's smallest VR ready gaming PC
Accessible and ready to be upgraded in an ease
MSI GeForce® GTX 1070 8GB GDDR5
Compact, light weight and easy to transport case
Full performance in extra-compact 4.72-liter case
Exclusive cooling system, Silent storming cooling 2
Choose to place your Gaming PC horizontally or vertically
Carefully though connection ports to fit your needs as a gamer
MSI Gaming Graphics Cards delivery better gaming performance
Audio Boost 3: Reward your ears with studio grade sound quality
Nahimic 3 Audio Enhancer
Mystic Light RGB LED design, customize your look
Supports 4K video and 4K game
Supports matrix display
VR Link; optimal VR experience
Super Charger 2: fast charge you mobile device
Enrich your experience with included MSI software
AWARD WINNING DESIGN
Underlined by winning the prestigious iF DESIGN AWARD 2017, the MSI Trident is the pinnacle of high performance gaming in a small form factor.
With the shapes and size of a console, but with the DNA and hardware of a true gaming powerhouse, the Trident rocks a complete package for those who want to game unlimited.
Think small. Play big.
THE LATEST INTEL® CORE™ PROCESSSORS
This MSI gaming desktop comes with the latest 8th Generation Intel® Core™ processors. Compared to its previous generation, the CPU multi-thread performance is 40% faster. 4K video playback with HDR visual quality is also significantly improved. So what does this mean for you? With these latest Intel processors, you can be totally immersed in full HD gaming, communicating with your teammates while live-streaming and capturing highlights for editing and posting later—all simultaneously and hassle-free!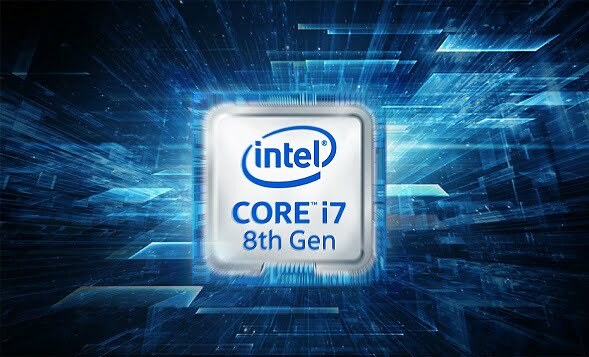 MSI AWARD-WINNING GRAPHICS
Armed with MSI's award-winning Graphics Card instead of a standard reference card, you'll enjoy the best in game performance while the supreme cooling technology keeps your graphics card cool and quiet. Welcome to a True Gaming PC!
IMMERSE YOURSELF
Integrating the very best of cutting edge technologies on MSI hardware provides a smooth VR ride. Through joint efforts with major VR brands, combined with unique MSI features geared to VR, MSI brings gamers and VR professionals a vivid and realistic experience in which content truly comes alive.
GET READY TO BE OVERWHELMED BY THE REALMS OF VR
From the start of Virtual Reality, MSI has been deeply involved in making VR Ready hardware in each of its product lines. Whether it's a feature-rich motherboard, a framerate boosting graphics card or a blazing fast complete gaming system, a huge set of VR-supporting features awaits you.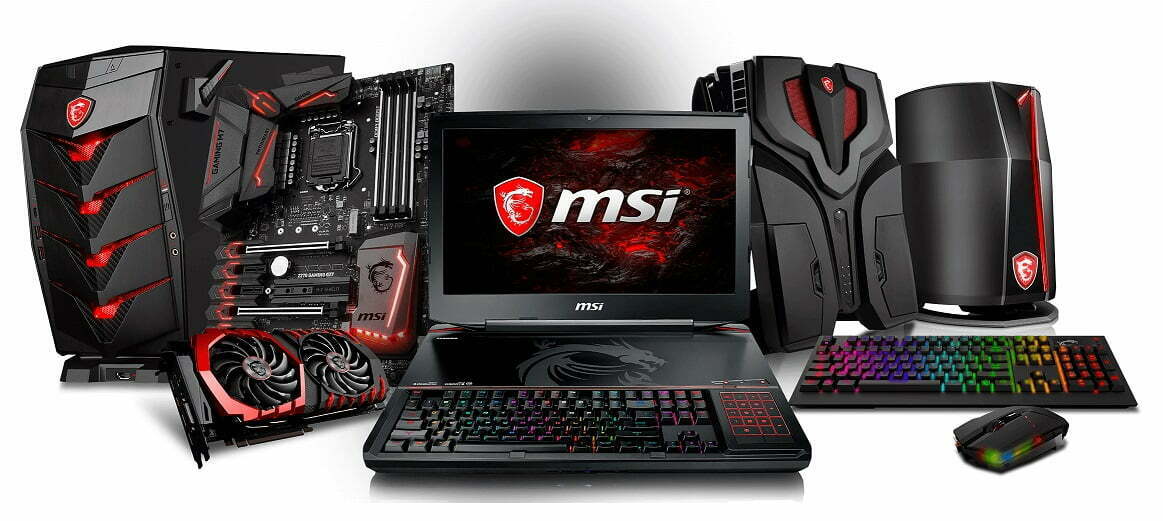 OPTIMIZED FOR THE BEST VR BRANDS
Want the best of the best VR experience without any compromise? MSI Gaming Desktops offer everything you need when exploring the possibilities of VR. By closely working with the industries' leading VR vendors, we make sure you get the best possible gaming experience when choosing Virtual Reality.
PULL YOURSELF INTO THE GAME WITH VR LINK
Only MSI Gaming Desktops are weaponized with VR Link. When using an expensive VR headset, you'll want it to have the best signal to and from your PC. VR Link features a special front HDMI out port for easy access when connecting your VR device so you don't have to find a part on the back of your PC, giving you a smooth VR experience.
STRAIGHT INTO THE ACTION WITH ONE CLICK TO VR
Both hard- and software need to be in tune for a smooth VR experience. Found in the MSI Gaming Center app, One Click to VR makes it very fast and easy to get primed for VR. A single click sets all your key components to their highest performance and makes sure other software applications won't impact your virtual adventure.
BREATHTAKING DESIGN
Housing all this high-powered hardware, MSI Gaming Desktops have a characteristic, breathtaking case design that is incredibly easy to use. Get the real gaming look!
Mystic light
Customize your Gaming Desktop with Mystic Light. Make your build look on fire or cold as ice. You are in control. You can select any of the colors from the palette to match your system's design, and plenty of LED effects to choose from.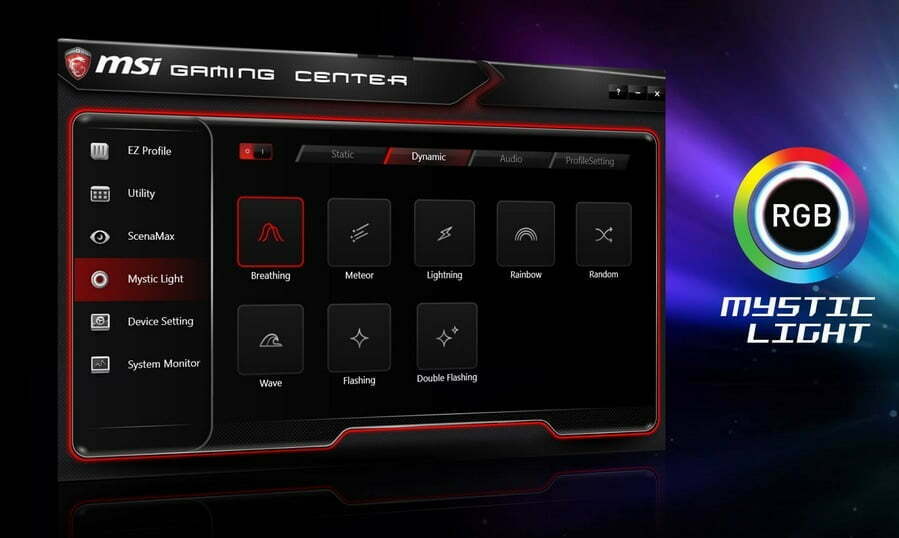 Compact and lightweight True Gaming PC
Going to a LAN-party, a friend or you just feel like you want to bring your Gaming Desktop anywhere you go? Trident 3 only weighs 3.17 KG and fits in most conventional backpacks. Bring true gaming desktop performance with you everywhere.
Which stance will you choose?
You choose how to use your Trident 3. Including a special stand to place your Trident 3 vertical. In this way the MSI Trident 3 will always fit to your gaming needs.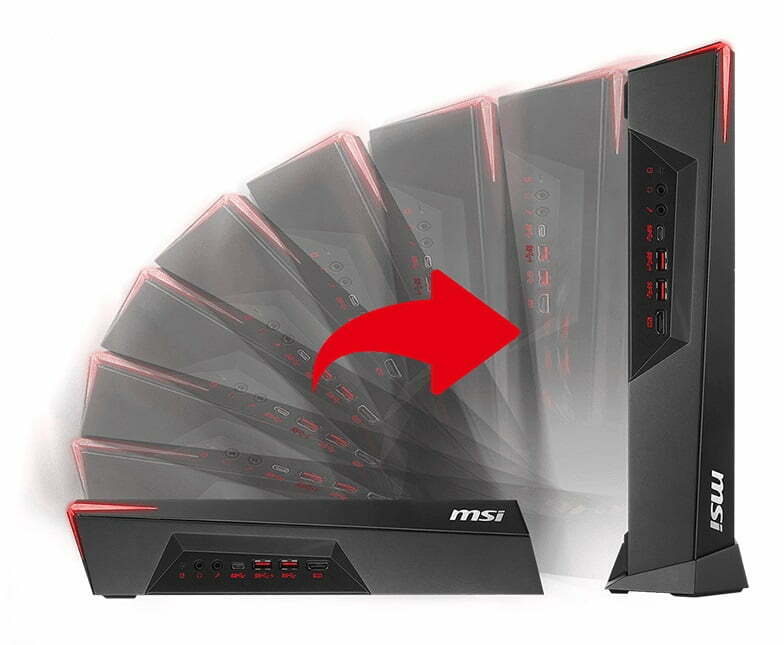 EASY ACCESS TO COMPONENTS
Always get the best performance out of your system with the latest technologies. The components inside MSI Gaming Desktops are easily accessible and ready to be upgraded at any time. Whether you're expanding storage or upgrading your processor or graphics card, you can always keep your gaming rig up to date with the latest hardware.
STAY COOL WHILE GAMING
Cooling is essential for Gaming systems, especially while playing the latest games. MSI Gaming Desktops have a customized thermal design to cool all essential components and make sure your system stays cool and runs stable at peak performance during long gaming sessions.
SILENT STORM COOLING
To ensure outstanding performance, MSI Gaming Desktops are equipped with an exclusive and powerful cooling system called Silent Storm Cooling. Utilizing separate chambers that individually handle the cooling of different components within the system, Silent Storm Cooling design makes sure the system's temperature stays perfectly under control for a cool and silent system.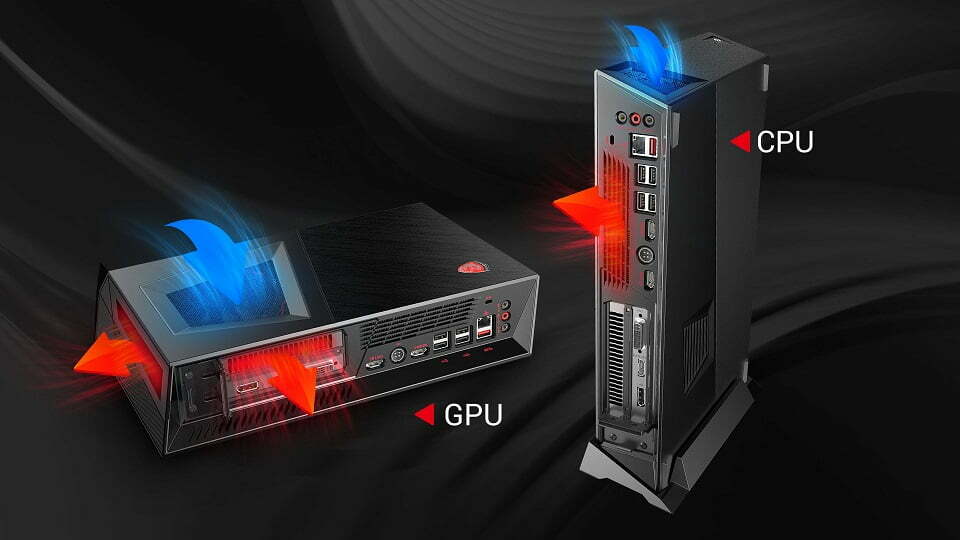 STAY COOL, STAY QUIET
The custom designed cooling systems inside MSI Gaming Desktops ensure a cool system while also keeping it very silent, so you can always hear the enemy coming.
SOUND THAT PULLS YOU INTO THE GAME
Get the most immersive sound experience when gaming. MSI Audio Boost delivers the highest sound quality through the use of premium quality audio components. This lets you enjoy breathtaking, game-changing sound to create the most exciting gameplay.
LIVE THE COMPLETE AND IMMERSIVE VR EXPERIENCE
Unchain the multichannel audio engine of your VR video game with Nahimic VR. More and more VR video games will be supporting the 7.1 audio surround. Unfortunately, they are locked in stereo. Nahimic VR is the world first audio solution to bring the 7.1 sound to a regular stereo headset. We provide specific audio algorithms that are capable of improving the 3D sound field drastically over HDMI and USB output. The result is a full and breathtaking VR experience for the gamers through combining VR video and 3D audio all together at once. Just click on the Nahimic VR button to turn on the VR audio effect through the Dragon Center, and prepare to be stunned!
Audio Boost 3
To deliver the crispest sound signal to gamers' ears, a special hardware amplifier called 'Audio Boost' is integrated onto the Aegis's motherboard, especially benefiting gamers using a gaming headset.
NAHIMIC Sound Technology is known for its quality and precision in Military and Aeronautics projects. NAHIMIC allows you as a gamer to experience the next level in immersive gameplay. Unique features, including 'Sound Tracker' which visually shows the direction of in-game sounds, give you the upper hand on the battlefield.
DOMINATE THE GAME WITH THE LOWEST LATENCY
Get ready to crush your enemies on the battlefield with MSI GAMING LAN. Featuring the highest quality components tuned to deliver the best online gaming experience without lag.
NEXT-GEN INTEL® WI-FI AC & BLUETOOTH
This next-generation Intel® Wi-Fi / Bluetooth solution uses smart MU-MIMO technology, delivering AC speeds up to 867Mbps. Share your Screen while gaming with Intel® Wireless Display (WiDi), which also lets you stream movies, photos, presentations, and more.
MSI GAMING CENTER
MSI Gaming Desktops come with free Gaming Center software. Unlike the bloatware that you'll find on other so called 'gaming' PCs, MSI's Gaming Center actually helps you to keep track of your system's in-game performance and to optimize your gaming experience. Gaming Center automatically detects different gaming profiles and settings for dozens of popular games and you can customize your own preferred settings as well.
*Gaming Center is an Application for MSI gaming desktops use ONLY. The application CANNOT be applied with Gaming App (An application for MSI Graphic Card) simultaneously.
BUILT ON EVERLASTING QUALITY
Using only the finest quality components and integrating the latest technological innovations delivers the best possible gaming experience. Rigorous quality testing under the most extreme conditions ensures a super reliable, high performance Gaming system.
TYPE-C REVERSIBLE CONNECTOR  FOR NEXT-GEN USB Type-C-middle
Get all the performance benefits from USB 3.1 combined with the convenience of the USB Type-C connector. This reversible USB connector allows for effortless connecting of USB devices.
SEE MORE GAME IN SURROUND MODE
Experience immersive gaming by expanding your gaming setup with 3 external displays in 4K UHD resolution with the Matrix Display technology. MSI Matrix Display with the latest Surround Mode technologies create an ideal environment for extreme gaming and pleasant multimedia entertainment.
SUPER CHARGE YOUR PHONE & GAMING GEAR
MSI Super Charger USB ports charge any connected device faster. It delivers more power than regular USB ports to your smartphone, tablet, USB game controller or portable console. Even when the system is turned off!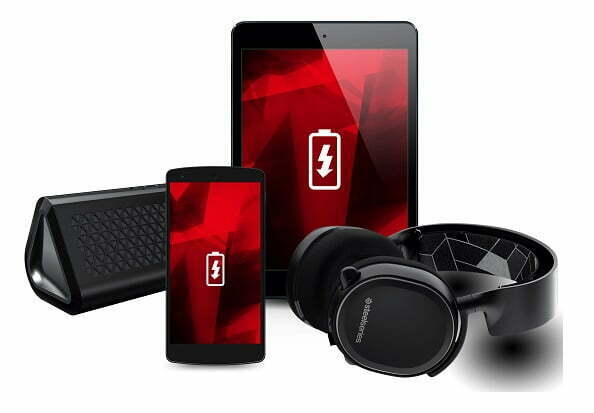 ULTRA 4K HD
Capable of Ultra 4K resolution, MSI Gaming Desktops offer incredibly sharp and crisp images, movies and gameplay.