Description
RM High-Definition
Digital Dashboard
Real-Time Data in Crisp HD
Features Highlight
Large Full Color HD Panel
60HZ High Refresh Rate
Aluminum Alloy Frame
Quick, Easy Assembly
Not Compatible With The R9 Wheel Base
Large Full Color HD Panel
With 16.7 million colors, and a crisp 800×480 resolution on a 5-inch panel, drivers can check their car status, see lap times and so much more in incredible detail.
Sturdy Aluminum Frame
The RM dashboard is wrapped in a sturdy aluminum alloy frame, making it easier to handle, more resilient to bumps, and complimenting the design of MOZA's wheel base range.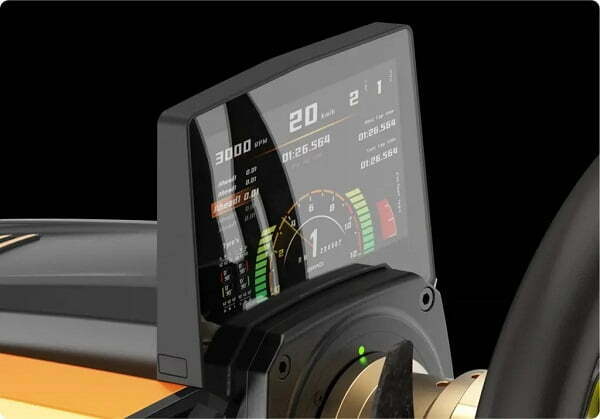 60Hz High Refresh Rate
Say goodbye to ghosting or lag! 60Hz gives users a clearer, easy to read HUD that is easy on the eyes.
Popular Racing Sims Supported
With over 10 sims actively developed and supported, use the MOZA Pit House Suite to enjoy immediate plug-and-play compatability for titles such as Assetto Corsa, F1 series, DiRT Rally 2 and more.
7 Digital Dash UIs
Enjoy 7 different unique styles of dashboard to cater to every racing situation. The MOZA Pit Hours Suite allows for easy toggling and configuration, ensuring a setup that is just right for your needs.

Real-Time Data, Real-Time Advantages
Always see the bigger picture with over ten data parameters that can be set. Lap times, relative, tyre and fuel information, fastest session lap and more can be easily deployed and configured.
Quick, Easy Assembly
Plug and play, set and forget! The RM is designed specially for our MOZA R16 and R21 series, locking into place with no need for extra cables, or external power.