Description
Moza R9 Wheelbase
Faster Like Never Before
9 N·m of Torque from a Direct Drive Servo Motor
The R9's 9N·m of torque can simulate a full range of steering forces and car handling characteristics.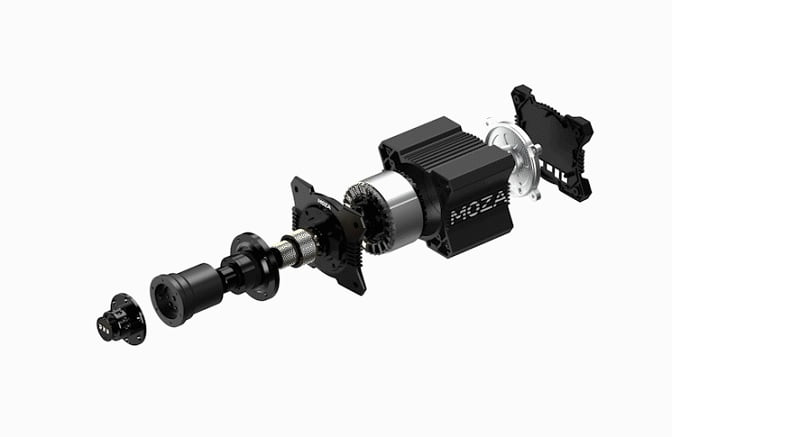 Minimum Weight & Maximum Torque
Maximum torque from a compact body.
Compact and Convenient for All Driving Setups.
When using in your house, in the large space such as the living room, it could be assembled with ground brackets and special tables and chairs, simulating cockpit and enjoy the amazing driving experience. It is convenient to invite friends over to try it. However, for relatively small spaces such as gaming rooms, study rooms, bedrooms, etc, you could mount it on the desktop, without occupying much space.
Race in Limited Space
Use the table clamp to mount the MOZA R9 to a table or a desk.
Aviation Grade Aluminum Alloy Housing
Unmatched quality and durability. The MOZA R9's whole housing is made of aviation grade aluminum alloy.
Smart Temperature Control System
To ensure stable operation and endurance during a competition. The temperature control strategy uses built-in temperature sensors.
Features Highlight
Zero Latency Wireless Technology
Wirelessly transmit data and power between the steering wheel and the base.
Quad Core Architecture
No matter how complex the force feedback calculations get. The unique Quad CPUs can reliably process the task at maximum precision.
APP Cloud Control
The settings of the wheel base, steering wheel, pedals, etc. can be modified through the MOZA APP. Settings can be imported with one click onto new simulators.
Compatible, Customizable
The R9 can be connected to all of MOZA Racing's hardware.