Description
MOZA R5 Bundle
Into A New Era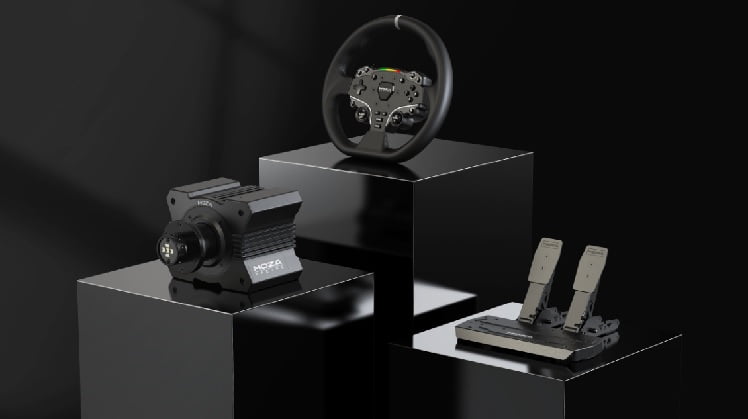 Features
5.5 Nm of Torque from Direct Drive Power
Aeroplane Grade Aluminum / Hand-made Stitch Leather / High-Strength Steel
Ultra-high Power Density Servo Motor
Customized Quick Release from Real Racing
22 Programmable Buttons
Adjustable Spacing and Height
Mapping Pedal Output Curves
MOZA Pit House Control Software
APP Cloud Control
Unbeatable Rigidity & Durability
The MOZA R5 bundle with aviation-grade aluminum, high-quality leather, high-strength steel gives these sets rock-solid durability.
R5 Wheel Base
5.5 Nm of Torque from Direct Drive Power
With a punchy 5.5Nm of torque, feel everything the road has to give with the power of direct drive.
Lightweight Design, Maximum Torque
Using smart design techniques, the D05 delivers maximum power with minimum volume and weight, allowing for a wider audience to get the best simracing experience.
ES Steering Wheel
Exquisite, Sporty Leather
With careful sewing and coating, our high-quality leather feels good to touch and for extended use.
Racing-level Quick Release System
MOZA's all aluminum, quick release system allows for effortless changing of wheel rims.Whether you are rallying or racing in F1, swap wheels in mere seconds.
Flow Shift Light Design
MOZA's signature flow light design gives racers an immersive experience and ensures every shift is just right.
Features
Aluminum Alloy Base
Right down to the skeleton, enjoy solid and sturdy aluminum alloy for maximum immersion.
Aluminum Alloy Shifters
Every shift feels neat and clean using our all-aluminum design.
22 Customizable Buttons
22 fully customizable buttons allow for racers to make all of the on-board adjustments they need while in the heat of battle.
MOZA SR-P Lite w Clutch
High-Strength Steel
Pure, high-strength steel gives these pedals a rock-solid durability and feel.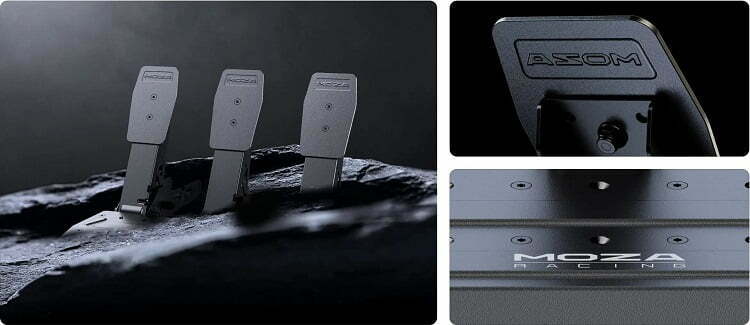 High Precision Hall Sensor
A high-precision Hall sensor ensures maximum stability and durability for your pedals, allowing for consistency and performance.
Detachable, Flexible Setup
Whether racers want to mount inverted pedals or have other ideas, our detachable design allows for home setups or professional simulator designs.