Description
R21 Direct Drive Wheel Base
The Moza Racing R21 direct drive wheelbase and RS wheel combo is a top-shelf piece of sim racing kit and boasts a chunky 21Nm of torque
Moza Racing may be one of the newer entrants to the sim racing universe, but they've hit the ground running with the R21 direct drive wheelbase and RS wheel combo.
Boasting 21Nm torque from the industrial-grade servo motor, a high-quality, GT style racing wheel with 4 paddles, high-definition digital dash display, plus a whole lot more (which we'll get into below).
From the moment you bolt the Moza bundle to your rig you'll be blown away by the quality build and precise fidelity of the direct drive force feedback.
Features Highlight
21Nm torque for powerful force feedback
Industrial-grade servo motor
1,000Hz refresh rate
Supercar inspired, all-aluminium wheelbase housing
Supports all popular PC-based titles including: iRacing, ACC, F1 2020, Dirt Rally, Assetto Corsa, rFactor 2 etc.
Plug and play, USB connection for PC
Moza Pit House software for calibration and fine-tuning of your wheel and wheelbase set-up
4 hole bottom mounting and side mount support
Nappa leather RS wheel with forged carbon fibre button box and magnetic paddles
Wheel button box features 10 programmable buttons, 2 large rotary encoders and 2 mini rotary encoders
RPM indicator built into the wheel (256 colour RGB – fully adjustable)
High-definition, full colour digital display dash (supports all popular racing titles including Assetto Corsa, F1 2020, Project Cars 2, Dirt Rally 2 and more)
Industrial-grade servo motor with 21Nm of torque on tap
With 21Nm of torque on tap the R21 can lay down an ultra-wide torque range that accurately reproduces the dynamic steering characteristics of top racing cars from F1 to IndyCar to V8 Supercars. The detail from the wheelbase is on par with more established brands and the optimized motor design offers practically zero torque ripple and cogging. The R21 can smoothly and precisely recreate feedback from hard braking, terrain changes to bumps, knocks, oversteer and understeer.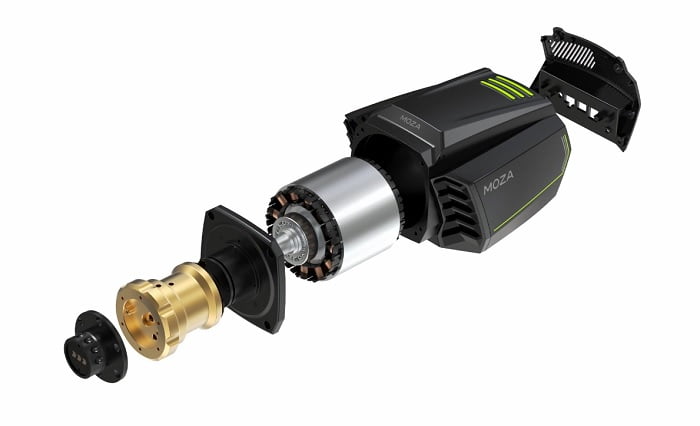 Sleek, Modern Design
Inspired by current supercar trends, the R21 sports a two-tone paint finish, with two variations.
Aircraft grade aluminium alloy wheelbase housing
The R21 features a supercar-inspired 3D sculpted body and dual colour automotive paint finish. The entire wheelbase housing is crafted from aircraft-grade aluminium alloy. It looks the part but is also practical with nice, even weight distribution.
Ultra Low Static Torque
Feel everything through an optimized motor design, offering practically zero torque ripple, notching or cogging. Combined with powerful torque delivery, hard braking, curbs, and drifts are clearer and stronger than ever before.
262,144 Points of Resolution
The R21 encoder gives exceptional understanding of the wheel position, allowing for accurate, clear communication when racing.
Zero Latency Wireless Technology
Say goodbye to cords, with the ability to wirelesly transmit all information from the wheel to the R21.
Quad Core Architecture
No matter what condition, the R21's quad CPU reliably gives racers maximum precision for the ultimate simracing experience.
CRP Pedals
Master the Art of Driving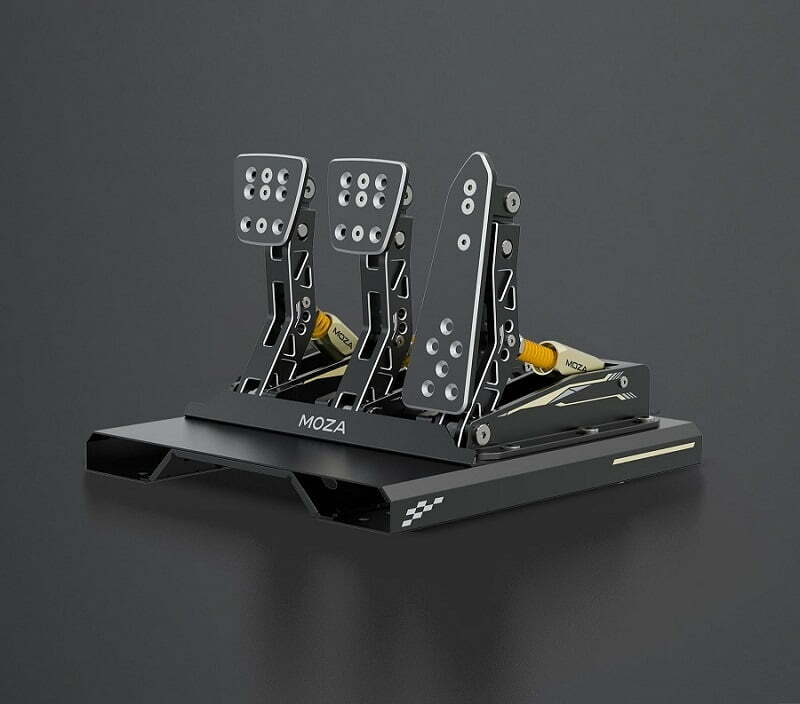 Features Highlight
Master the Art of Braking and Accelerating
3 stage clutch
CNC Aluminum Pedal Assembly
Fully Adjustable and Configurable
Load Cell Pressure Sensor
Unmatched Style and Performance
With a sleek black and gold design, the CRP pedals take inspiration from modern hypercar styling.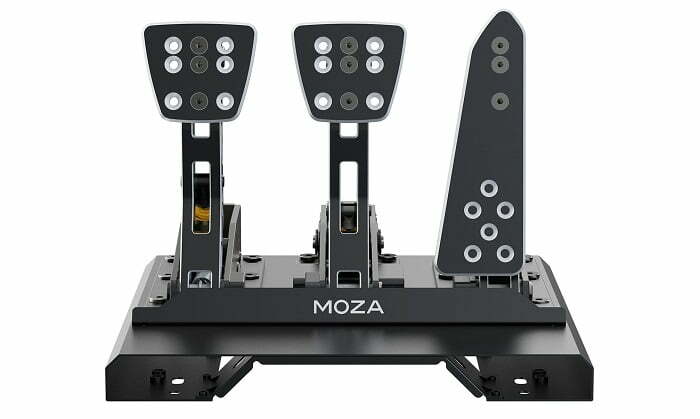 Premium RS racing wheel, RM digital dash display and SRP Pedals included
The Moza R21 bundle includes the premium RS racing wheel and jaw-dropping digital display dash. The RS wheel is covered in Nappa leather and features a button plate made from forged carbon fibre.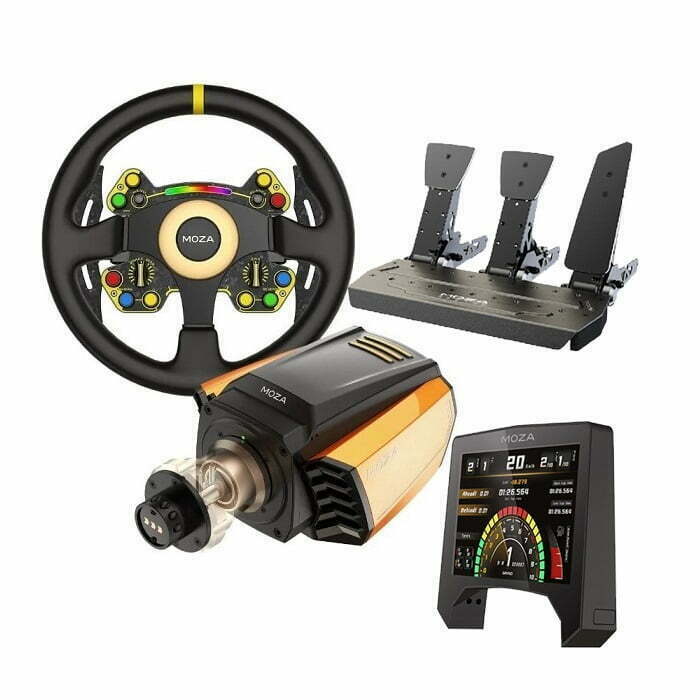 The button box features 10 programmable buttons, dual rotary encoders and two additional, smaller encoders positioned at the top of the wheel plate. There are also four magnetic paddles, all crafted from matching forged carbon fibre.
Embedded into the wheel is a handy RGB shift light that's fully programmable and adjustable to suit your racing style.
The Moza digital dash is made from aluminium and neatly sits on top of the wheelbase. The dash measures in at 12.7cm with 16.7 million colours, and a screen resolution of 800×480. This stunning digital dash can display essential data at a glance like car status, lap times, and more.