Description
Cougar GX PSU
New high-end series of power supplies specifically targeting demanding gamers, the COUGAR GX V3 series. The 80Plus Gold certified GX V3 series provides up to 93% peak efficiency. The advanced cable management solution allows users to only use those cables their peripherals actually need, thereby effectively reducing cable mess while at the same time improving air circulation and ventilation within the case. The rugged black coating in combination with the gold vent grill add to the overall robust and aggressive appearance of these units, thereby effectively increasing the game-style looks. COUGAR GX power supply, your best choice.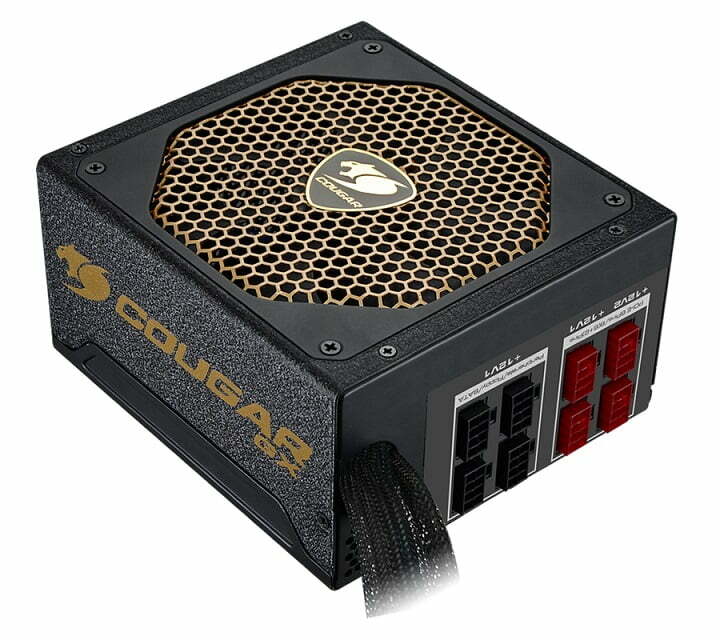 High Efficiency
Up to 93% efficiency with 80-PLUS® Bronze efficiency requirement

Super Silent & Best Lifespan
Fan speed automatically governed based on the temperature.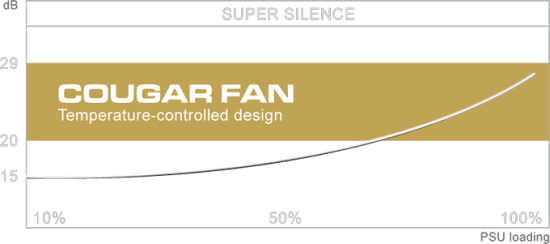 105°C Japanese Capacitors
Best reliability, delivering 4 times the lifespan of conventional 85°C rated capacitors.
High Performance at 50°C
Non-stop high performance and full rated wattage at 50°C/122°F ambient temperature
Features
80-PLUS® GOLD CERTIFIED

Up to 93% of efficiency, compliant with 80-PLUS® GOLD efficiency requirement

ULTRA-QUIET & TEMPERATURE-CONTROLLED 140mm FAN

140mm double ball bearing fan deliver optimum air flow with extremely low noise level, the fan speed automatically governed based on the temperature

ADVANCED MODULAR CABLE

The advanced modular cable management is further improved by utilizing new flat cables that simplify installation as well as reducing air friction in order to maximize airflow. This gives gamers the power they need, and flexibility of easy upgrades they demand

COMPATIBLE WITH LATEST PC-TECHNOLOGY

Supports the newest specifications of ATX12V v2.31 and EPS 2.92 standards
Created for usage with current and next-generation multi-core CPU platforms

SUPPORT MULTI-GPU TECHNOLOGY

Support PCI Express 2.0 next-generation graphic card with 8(6+2)pin PCI-E connector

105 °C JAPANESE CAPACITORS

Highest durable 105°C Japanese capacitors provide uncompromised performance and reliability, delivering 4 times the lifespan of conventional 85°C rated capacitors.

HIGH PERFORMANCE AT 50°C

Non-stop high performance and full rated wattage at 50°C/122°F ambient temperature.

DYNAMIC MULTI-12V

Automatic dynamic load distribution on multi-12V lines provide high voltage stability power separately to the GPU and the CPU. If you are not using all output lines, the PSU automatically reroutes needed power from unused lines. This improves the performance and safety of the 12V lines considerably for systems with high-end graphics cards in SLI® or CrossFire® mode

COMPLIANT WITH THE LATEST ErP Lot6 2013

In Standby consumption is <0.3W, compliant with economy-friendly electrical equipment

FULL PROTECTIONS WITH OCP, SCP, OVP, UVP, OPP & OTP