Description
T2 Throne Model More affordable, Adaptive, and adjustable cockpit of High Tech Zero Gravity Reclining Workstation
It enables an ultimate comfortable, immersive environment for people that spend many hours on computer Working or gaming. Whether you are looking for a workstation chair for pc gaming, VR gaming, home office, finance, simulation or monitoring etc, T2 can enhance simpleness, comfort, accuracy, privacy and productivity.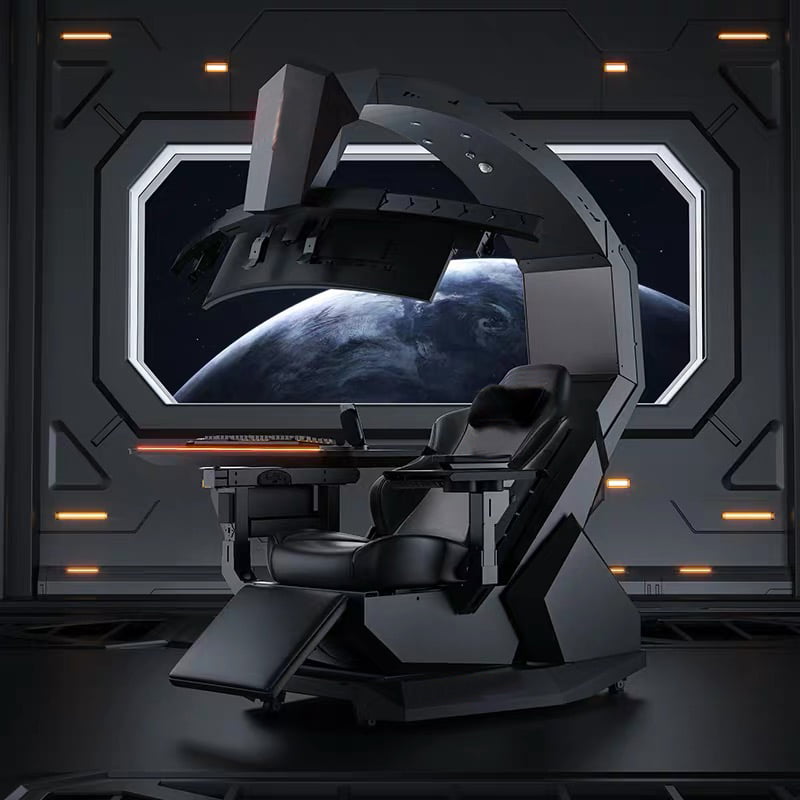 Features & Functions:
More adaptive: The unique design make it support 3*32″ regular monitors with VESA Holes or supports up to 5 monitors of 24″- 32″, or with single monitor up to 43″, and the ultra wide 49″ monitor.
Easier installation: The new developed super easy Click-on Technology makes it super easy for assemble/installation process.
Easier Exit/ Entry: Swivel Keyboard tray & Armrest make it easier exit/into the cockpit at any time by one hand push.
Easier control on one hand: Integrated controller buttons on Right armrest ,with convenient USB 3.0 ports, easy connect with keyboard, mouse and other peripheral components, easy to charge power for your phone and one button click for set to normal sitting position.
More convenient :Armrests with dual cup holders, big container boxes and earphone ,headset brackets.
Easier Adjustable: New design Easier adjustable mounts for monitors distance (20cm range ) and angle (25 degree )
Easier Manual adjustable keyboard tray distance by hand push/pull, Adjustable range is 6-7 cm.
Lighter for easier shipping, dimension for cockpit is about : 170cm x 155cm x 170cm ( L X W X H FOR after triple monitors installed )
Strong PU leather Gaming chair with memory foam head pillow & waist pillow.
Leg panel cushion on/off up/down with two buttons control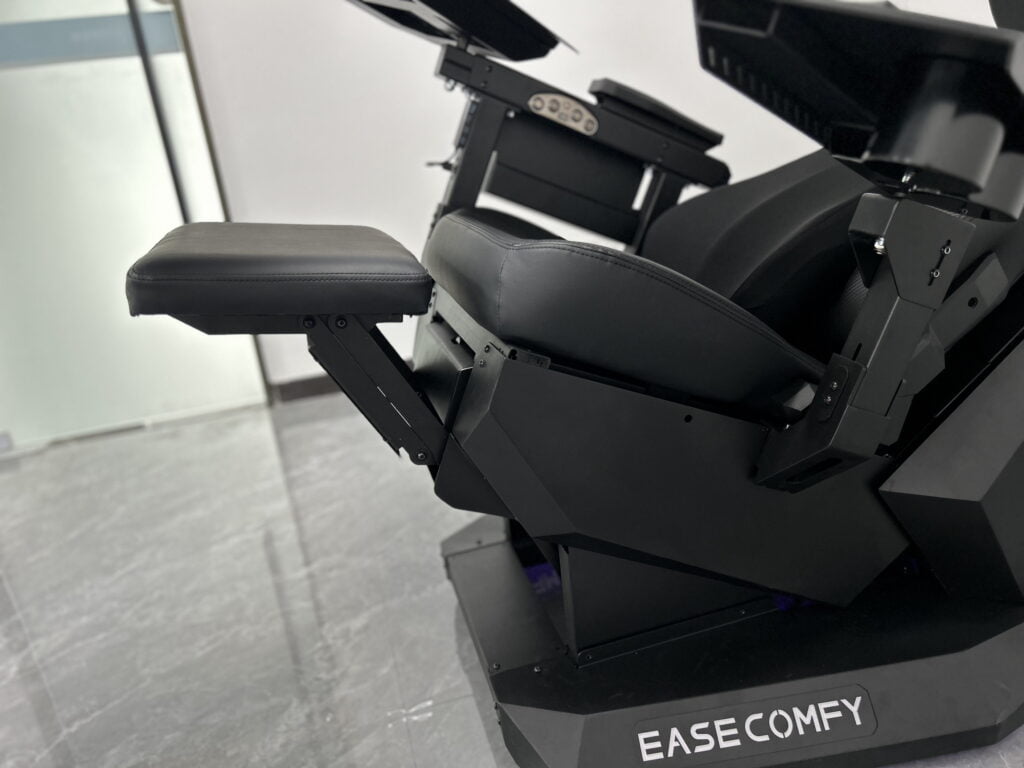 Triple monitor mounts for 3*32″ /27″, central mount can support 1 *49″ Samsung G9,add additional 2 mounts to 5 mounts setting Or customs mounts for hold 2*49″ G9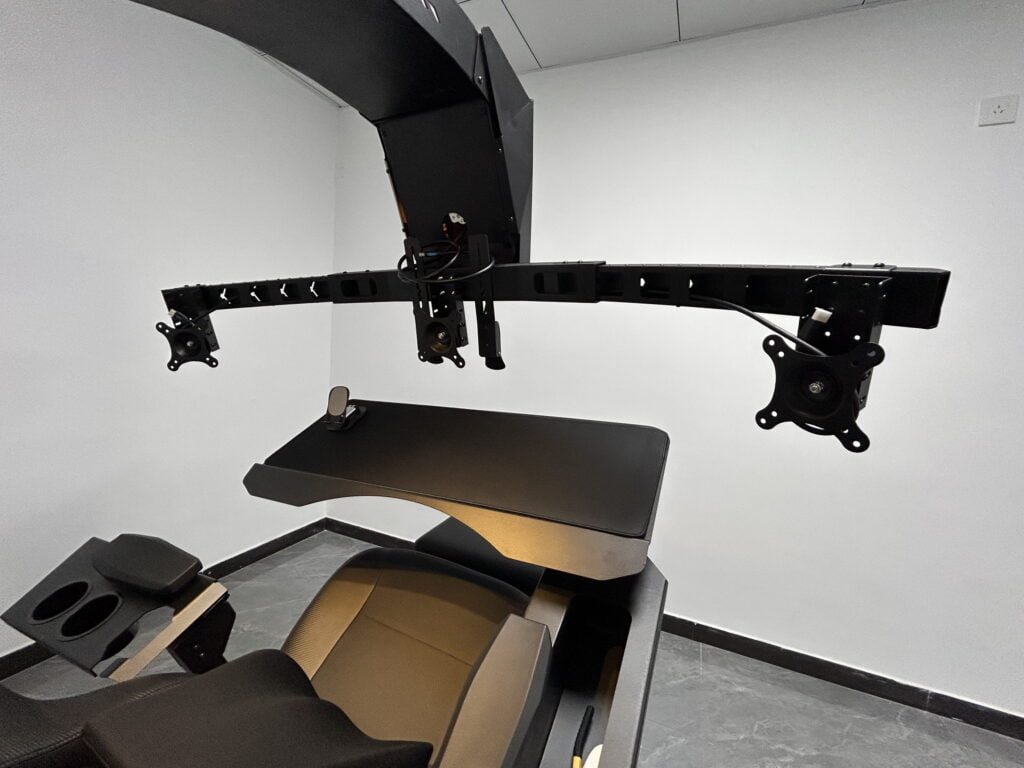 Easier Manual adjustable keyboard tray distance by hand push/pull, Adjustable range is 6-7 cm  900 x 300 mm big size keyboard tray manual swivel open/close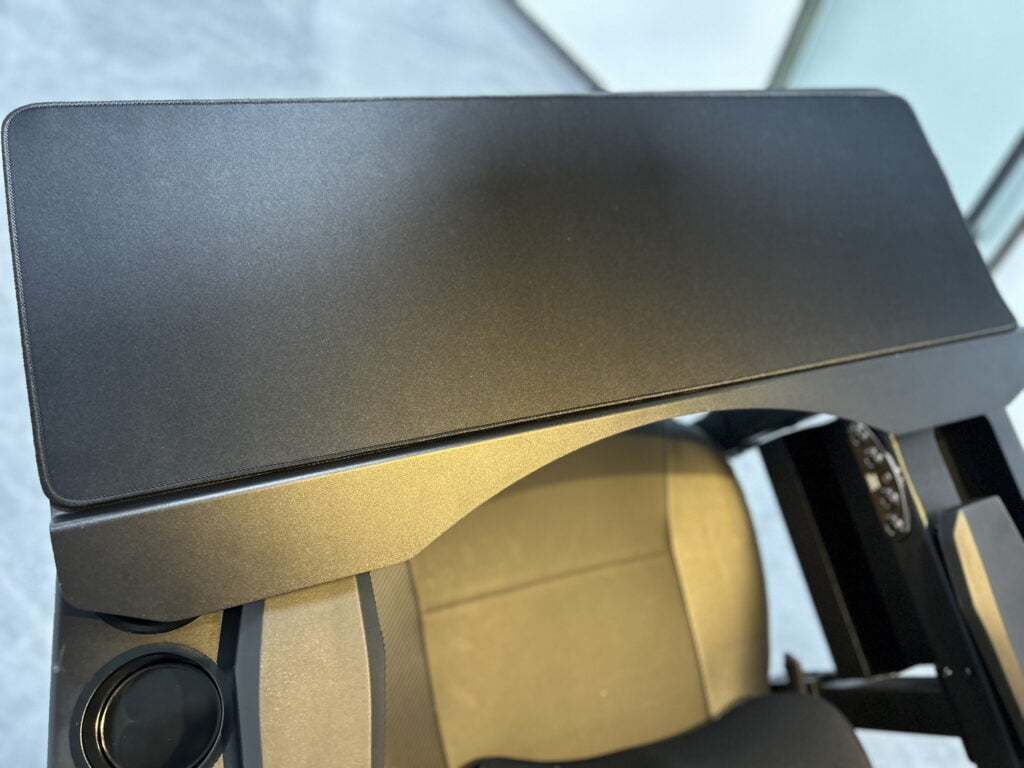 Right armrest with control buttons for cockpit, USB port,4*USB 3.0 ports & big container box, headset bracket
USB 3.0 hub with 4*USB 3.0 ports under keyboard tray and on right armrest
Human sensor Reading lights on roof arm eco-friendly sense
Dimensions