Description
ASUS ROG Rapture GT-AC5300
AC5300 Tri-band WiFi Gaming router for VR and 4K streaming, with quad-core processor, gaming port, AiMesh for mesh WiFi system, WTFast, Adaptive QoS, and AiProtection network security
ROG Gaming Center : Rule Your Network
The battle-ready ROG Rapture GT-AC5300 router is designed with just one mission in mind: Make your gaming network awesome. It's packed with powerful gaming optimizations, and delivers dominating Wi-Fi performance, rock-solid stability and state-of-the-art security. The ROG-themed Gaming Center interface provides easy point-and-click control over every incredible feature. Game Dashboard provides a real-time heads-up about all of your devices and connections, while Game IPS (Intrusion Prevention System) and Game Boost are the command centers for frontline network security and high-performance game acceleration. Other winning features include Gamers Private Network® support with WTFast®, congestion-busting Wi-Fi Radar, the Game Radar ping map that shows you where the fastest servers are, and VPN Fusion for simultaneously running a VPN alongside your web connection.
Free Game Accelerator Inside
Ping time and variance are critical technical parameters that affect responsiveness in online gaming, and their values depend heavily on the route game packets take to and from their destination. The Gamers Private Network® (GPN®) from WTFast® automatically performs route optimization, choosing the most efficient route for game packets, resulting in consistently-lower ping time and minimal packet loss. With GT-AC5300 this optimization is free for accelerating one selectable device at a time, so you can enjoy the results on supported competitive multi-player online games.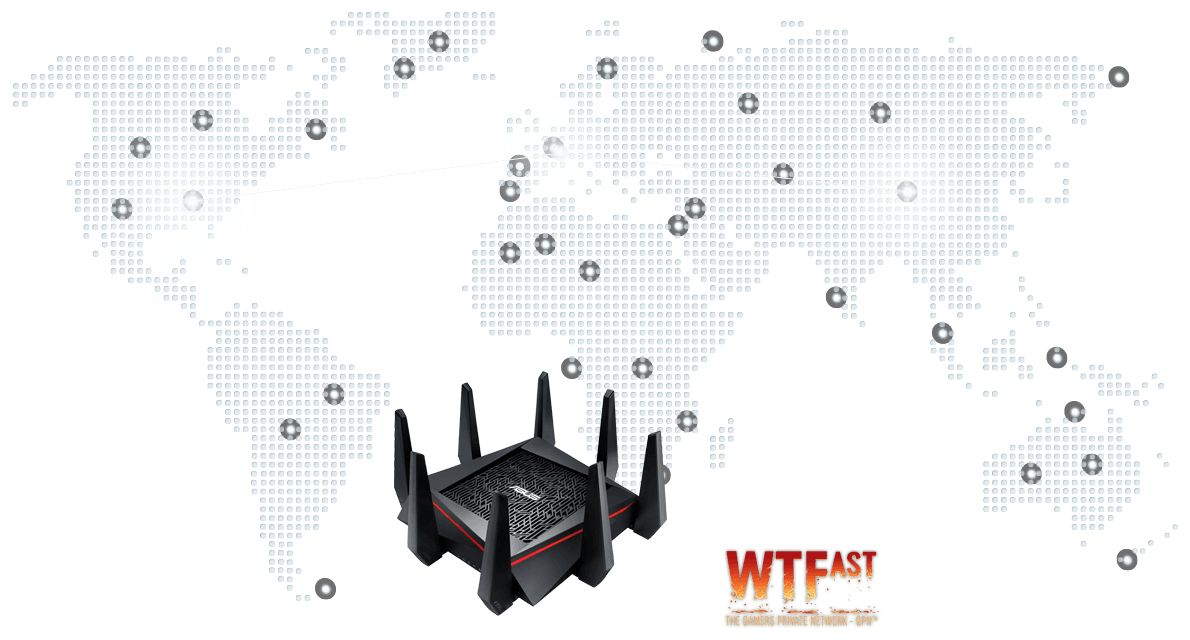 Fortified Frontline Network Security
To defend your network, ROG Rapture GT-AC5300 features Game IPS(Intrusion Prevention System), a state-of-the-art intrusion prevention system powered by Trend Micro™ technology. It protects your gaming network from external attacks and threats, neutralizing them before they can reach your network or devices. Even if your PC's security software isn't turned on — to get around blocked games, for example — Game IPS still protects your network from attacks and intrusions, giving you added peace of mind.
Simultaneous Gaming And VPN
If you're fed up with virtual private networks dragging down game performance, ROG has the answer. ROG Rapture GT-AC5300 has a killer feature called VPN Fusion, which lets you run a VPN and an ordinary internet connection — simultaneously! So even if other network users need to use a VPN, you can still enjoy maximum gaming speeds. This feature will be supported with firmware update.
Battle Ready Hardware
ROG knows exactly what top gamers need: ROG Rapture GT-AC5300 is built for full-on gaming action with hardware that's ready to meet the toughest challenges. Eight gigabit LAN ports provide the connections you need for all of your gaming devices, and two USB 3.0 ports give you high-speed access to files on USB storage. Hardcore NAS enthusiasts will appreciate the Link Aggregation feature that lets you team two LAN ports together into a single blisteringly fast 2Gbps connection*. *Link aggregation requires a client with 802.3ad support.
Powerful Whole-home Wi-Fi System. The Way You Want.
In most cases, your RT-AC5300 can deliver smooth, reliable Wi-Fi to every part of your home. But Wi-Fi coverage can be affected by many factors — room layout, construction materials, and even furnishings. ASUS AiMesh is an innovative new router feature that fixes these problems: it creates a whole-home Wi-Fi network using multiple ASUS routers. AiMesh is powerful, flexible and you can use a mix of ASUS router models — protecting your investment! AiMesh gives you time-saving central control, and seamless roaming capability. AiMesh is Wi-Fi you can rely on — for all your devices, all the time!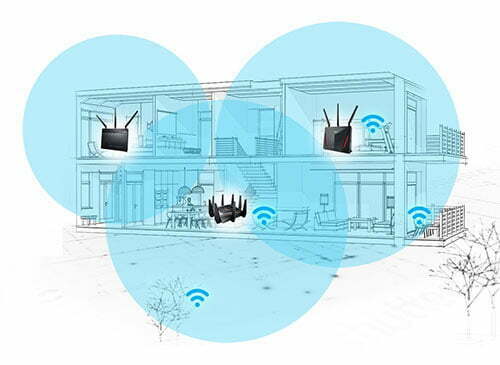 Extreme 1.8 GHz Quad Core Power
The ultimate router needs the ultimate processing power, so ROG Rapture GT-AC5300 is powered by a top-of-the-line 1.8GHz 64bit quad-core CPU that puts many desktop processors to shame. It offers more than enough power to handle anything you can throw at it, without skipping a beat — whether it's maximizing the WAN/LAN throughput for online gaming, supercharging USB data transfers, or powering your team's LAN party.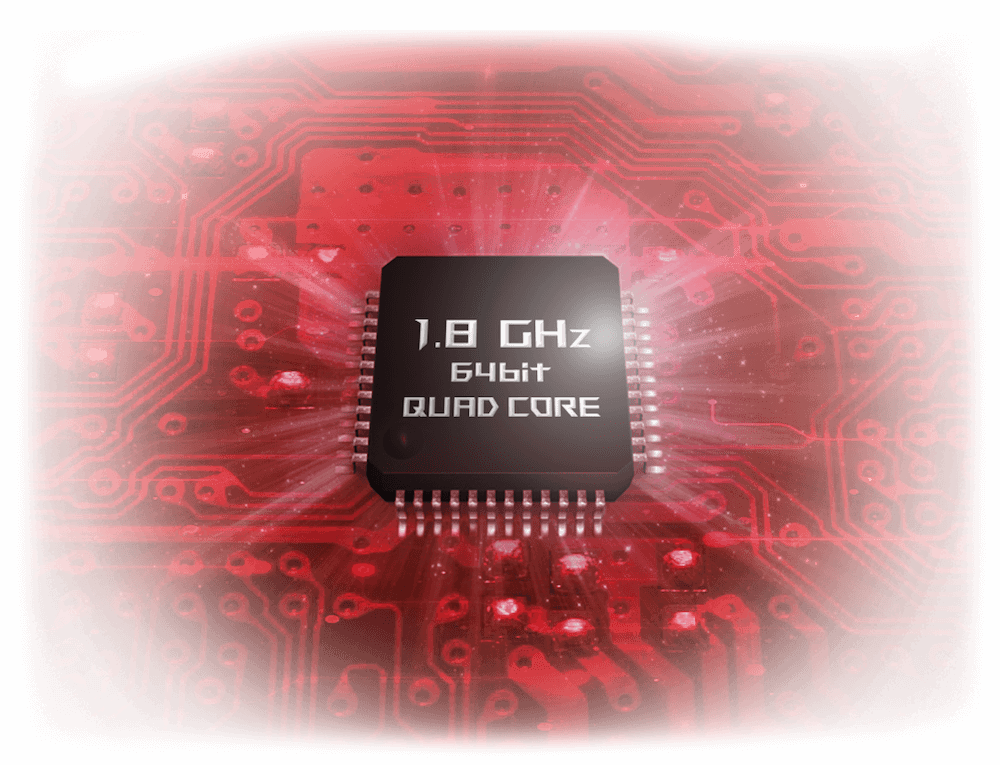 Built For WI-FI Freedom!
Wi-Fi is great, but not if it dies or slows down before it reaches your favorite gaming spot. To achieve the freedom you deserve, ROG Rapture GT-AC5300 features RangeBoost, a powerful range-enhancing combination of hardware and software that increases coverage while also significantly improving long-range throughput! At last, you decide where to play — instead of your router!